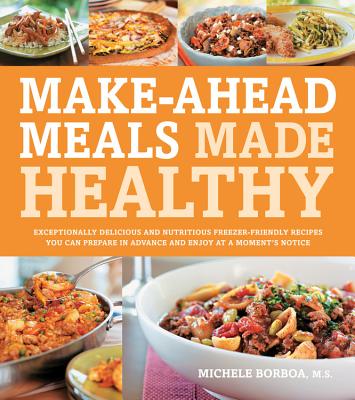 Make-Ahead Meals Made Healthy (Paperback)
Exceptionally Delicious and Nutritious Freezer-Friendly Recipes You Can Prepare in Advance and Enjoy at a Moment's Notice
Fair Winds Press, 9781592334636, 232pp.
Publication Date: July 1, 2011
* Individual store prices may vary.
Description
Dazzle your dinner table with homecooked meals every night of the week!
Serve your family the best, most nutritious food AND save time and money with this mega-delicious guide to preparing meals you can fix-and-freeze now and enjoy any night of your crazy-busy week!
Unlike the sodium-laced, preservative-filled meals you might find in your grocer's freezer aisle, Make-Ahead Meals Made Healthy features all-natural recipes full of flavors that come to life the instant you reheat them—so your meals don't just taste as good as the day you stored them away, but even better. In addition, you'll find great tips and advice on how to best prep, store, and reheat every single recipe, making mealtime prep a cinch for any member of your household.
From comforting casserole and lasagna recipes made new again with fresh veggies and whole grains, to hearty and wholesome breakfast baked goods and sweet treats, you'll discover so many healthy "must-make" recipes inside that you may need to get a larger freezer! Such show-stopping recipes include:
—Baked Whole Wheat Pasta with Turkey Sausage, Pesto, and Fontina
—Saucy Succulent Saffron Chicken
—Rave-Worthy Apricot Pistachio Rice Pilaf
—Tantalizing Teriyaki Vegetarian Stir-Fry
—Fast and Easy Fresh Herb Focaccia
—Baked Gingerbread Cake Doughnuts with Mmmmm Maple Glaze
—Blackberry Buttermilk Cake
With Make-Ahead Meals Made Healthy, serving your family a hot, home-cooked meal every night of the week has never been simpler—or more delicious.
About the Author
Michele Borboa, M.S., is a health and wellness expert, personal chef, and freelance writer specializing in food, fitness and balanced living. She is a food columnist at ww.ChefMom.com, channel editor at www.SheKnows.com, and the author of the cookbook The Fitness Kitchen. Michele holds a master's degree in exercise science and health promotion and has been a personal chef for more than five years, specializing in healthy, practical meals. She lives with her family in Bozeman, Montana.