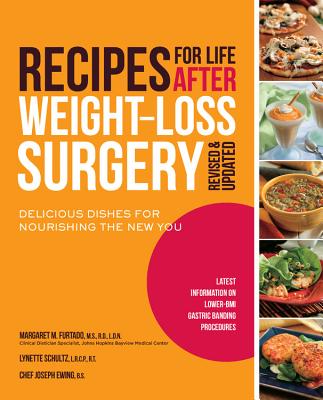 Recipes for Life After Weight-Loss Surgery, Revised and Updated (Paperback)
Delicious Dishes for Nourishing the New You and the Latest Information on Lower-BMI Gastric Banding Procedures
Fair Winds Press, 9781592334964, 320pp.
Publication Date: December 1, 2011
* Individual store prices may vary.
Description
Weight loss surgery is only the first step to maintaining a healthy weight. Post-surgery is when it is most important to maintain proper eating habits with the right balance of nutrients. Recipes for Life After Weight-Loss Surgery, Revised and Updated provides you with a variety of tasty meals that are tailored for each stage of your post-operative eating plan. Included are meal plans, pantry lists, and 200 recipes that are delicious and specifically tailored to weight-loss surgery requirements:
— Zucchini Frittata with Capers and Olives
— Lavender-Blueberry Muffins
— Sesame-Glazed Salmon
— Fall Harvest Pumpkin Soup
This revised and expanded edition includes 50 new recipes with nutritional analysis, meal plans for each post-op stage, and the latest information on weight loss surgery and procedures.
About the Author
Margaret Furtado, M.S., R.D., L.D.N., a registered and licensed dietitian-nutritionist with almost 20 years' clinical experience, is currently part of the multidisciplinary team at the Massachusetts General Hospital-MGH Weight Center, where she counsels patients on both medical and surgical weight loss (including gastric bypass and gastric banding procedures). Prior to working at MGH, Ms. Furtado spent 4 years working at Tuftss New England Medical Center's (NEMC) Obesity Consult Center, providing both individual and group consultations for gastric bypass, gastric banding and BPD surgery patients. It was while at NEMC that she wrote
Recipes for Life After Weight-Loss Surgery
. Margaret earned her Master's degree in Nutrition and Dietetics at Florida International University in Miami, FL., and her B.S. degree in Nutrition and Dietetics from the University of Rhode Island. Ms. Furtado lectures across the country on issues pertaining to weight loss surgery.
Margaret Furtado, M.S., R.D., L.D.N., is a registered dietitian specializing in weight loss surgery at such renowned hospitals as Tufts Medical Center, Massachusetts General Hospital, and Johns Hopkins Bayview Medical Center. She is a member of the Allied Health Committee of the American Society of Metabolic and Bariatric Surgery (ASMBS), and gives talks related to bariatric surgery and nutrition throughout the United States. Margaret is also a blogger on Yahoo! Health, covering various topics related to nutrition and weight loss. She received her undergraduate degree in nutrition from the University of Rhode Island, and her M.S. degree in nutrition and dietetics from Florida International University, where she also completed her RD training.Chef Joseph Ewing, B.S., is a graduate of Johnson and Wales University, with a bachelor's degree in culinary nutrition and an associate of science degree in culinary arts. Joseph is currently doing his dietetic internship at the University of Maryland Eastern Shore.