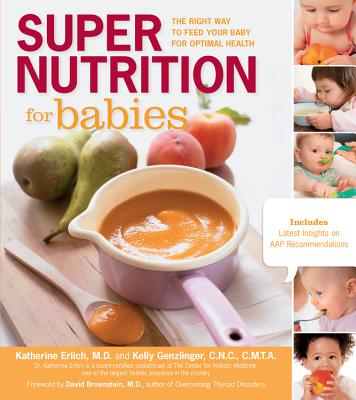 Super Nutrition for Babies (Paperback)
The Right Way to Feed Your Baby for Optimal Health
Fair Winds Press, 9781592335039, 240pp.
Publication Date: March 1, 2012
* Individual store prices may vary.
Description
"A wonderful guide for getting babies off to the right start, and helping them enjoy the gift of health for life." - Sally Fallon Morell, President, Weston A. Price Foundation
"A clear, practical, and nontrendy guide for parents on how to best feed babies and toddlers, backed by common sense, ancestral wisdom, and sound science." - Kaayla T. Daniel, Ph.D., C.C.N., Vice President, Weston A. Price Foundation, and author of The Whole Soy Story: The Dark Side of America's Favorite Health Food
"Super Nutrition for Babies is something that every expectant and new mother and father should read. This book is a rare treasure!" - Natasha Campbell-McBride, M.D., author of Gut and Psychology Syndrome
"A grand reference book that can be used for many years of a child's life." - Nancy Appleton, Ph.D., best-selling author of Healthy Bones and Lick the Sugar Habit
There is a better way to feed your baby. Super Nutrition for Babies gives parents the latest science-verified nutritional recommendations for feeding their child. Based on a program used at one of the largest holistic practices in the country, this book provides information on all aspects of nutrition and feeding, including introducing meat in a child's diet, healthier alternatives to dairy and soy, starting solid foods, establishing a regular eating schedule, dealing with picky eating, and the best foods for every age and stage so your baby gets the best nutrition to minimize illness and optimize sleep, digestion, behavior, and brain development.
About the Author
Katherine Erlich, MD, is a board certified pediatrician and mother of two who practices out of one of the largest holistic medical center's in the Midwest. Prior to starting her now thriving pediatric practice, she spent over a decade in a busy, conventional pediatric practice where she gained extensive clinical experience. Currently, at Healing the Whole Child, PLLC, Dr. Erlich guides her patients to better health through an individualized medical approach, integrating nutrition, holistic philosophies and traditional medicine. Dr. Erlich has been instrumental in creating her school district's Wellness Committee, featured on the news, and has authored articles printed in several publications. She lives in Franklin, Michigan.
Kelly Genzlinger, MS, CNC, CMTA, has dedicated many years to the study of nutrition and foods' effects within the human body. She is a traditional-foods advocate in her community and is dedicated to promoting wellness for her children, family, and nutritional clients. An author, speaker, and certified nutritional consultant, Kelly is proud to have changed the lives of countless children and adults with her teachings, guidance, and counsel related to whole, real, traditional foods. Her first book, Sugar...Stop the Addiction, addressed the national crisis of excessive sugar consumption. She has been a featured speaker at wellness symposiums and a guest on cable shows, such as Diabetes Countdown and The Bottom Line. She resides in Birmingham, Michigan.
David Brownstein, M.D., is a board certified family practitioner and medical director of the Center for Holistic Medicine (West Bloomfield, Michigan). He is the author of ten books, including Iodine: Why You Need It, Why You Can't Live Without It and Overcoming Thyroid Disorders. Visit him online at http://www.drbrownstein.com.
Praise For Super Nutrition for Babies: The Right Way to Feed Your Baby for Optimal Health…
"Figuring I wasn't going to experience a spiritual revelation about the sanctity of family dinners at this late stage, I dropped the conversion-narrative books in favor of some that sound like brass-tacks science. "Super Nutrition for Babies: The Right Way to Feed Your Baby for Optimal Health," by Katherine Erlich, M.D., and Kelly Genzlinger, C.N.C., C.M.T.A., with a foreword by David Brownstein, M.D., author of "Overcoming Thyroid Disorders," seemed with all those enigmatic letters to fit the bill." - New York Times