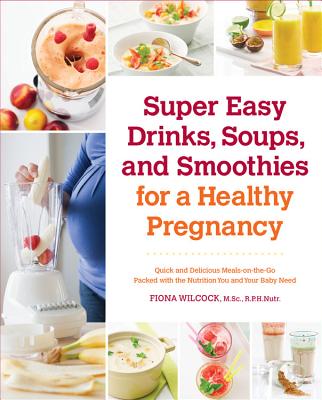 Super Easy Drinks, Soups, and Smoothies for a Healthy Pregnancy (Paperback)
Quick and Delicious Meals-on-the-Go Packed with the Nutrition You and Your Baby Need
Fair Winds Press, 9781592335206, 128pp.
Publication Date: May 1, 2012
* Individual store prices may vary.
Description
An optimal supply of vitamins and minerals is important in any diet but nutrient needs increase dramatically during pregnancy and are critical for ensuring baby's healthy development. However, common pregnancy complaints such as nausea often make eating properly difficult. Smoothies, juices, and soups provide a easy and digestion-soothing way to get essential vitamins and minerals—and can be prepared quickly and easily. Super Easy Drinks, Soups, and Smoothies for a Healthy Pregnancy provides over 100 recipes developed to meet the nutritional needs of pregnant and nursing women, ease pregnancy complaints such as nausea and sleeplessness, and keep moms-to-be nourished and energized.
About the Author
Fiona Wilcock, M.S., R.P.H.Nutr., was a nutrition scientist and lecturer for many years and is now an independent nutrition consultant and author. She has provided recipes and nutritional advice to Marks & Spencer, Good Housekeeping, Disney, and Babylicious, as well as to the UK's Food Standards Agency. She is the author of the Gourmand award-winning Complete Pregnancy Cookbook. She resides in London.