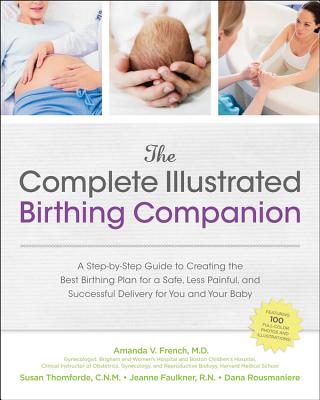 The Complete Illustrated Birthing Companion (Paperback)
A Step-by-Step Guide to Creating the Best Birthing Plan for a Safe, Less Painful, and Successful Delivery for You and Your Baby
Fair Winds Press, 9781592335336, 224pp.
Publication Date: January 1, 2013
* Individual store prices may vary.
Description
How to give birth is the most important decision of a woman's pregnancy, but navigating the maze of options is overwhelming. The Complete Illustrated Birthing Companion clearly lays out the process for eight successful birthing plans from home births and hospital births to a natural unmedicated delivery and C-sections. Each path outlines the latest research on every technique and procedure from water birthing to medications and includes "Real Deal" and "Inside Information" sections that detail the huge variations parents-to-be sometimes encounter. Written by an OB/GYN, nurse/midwife, and neonatal nurse, this photo-filled essential guide presents the most balanced and comprehensive perspective on all aspects of delivery today including red flags that indicate when another birthing plan may be more appropriate as well as helpful strategies and trimester-by-trimester schedules for the smoothest birth experience possible.
"Every expecting mom is hungry for information and guidance. The Complete Illustrated Birthing Companion is that and so much more! In order to attain our personal best throughout pregnancy, as well as during and after childbirth, access to information and services are key. Women need to feel prepared and supported going into motherhood."
—Christy Turlington Burns, Author, Living Yoga: Creating a Life Practice, and Founder, Every Mother Counts
"The authors have taken a comprehensive, straightforward, and truly unbiased look at the many childbirth options available to women today. This is an indispensable guide for expectant mothers everywhere."
—Alexa Joy Sherman, deputy editor, Natural Health magazine
"From the best experts in the field of childbirth, The Complete Illustrated Birthing Companion is a real-life guide to the entire process of having a baby. Most importantly, it explains the spectrum of choices, from drug-free home birth to what to expect during a C-section, and everything in between. Don't go into labor without it!"
—Peg Moline, editor-in-chief, Fit Pregnancy magazine
About the Author
Amanda French, M.D., completed her residency training in obstetrics and gynecology at Boston Medical Center in Boston, Massachusetts. She is board certified by the American Board of Obstetrics and Gynecology and is a Fellow of the American Congress of Obstetrics and Gynecology. She has been employed in private practice with teaching responsibilities at the level of clinical instructor at Brigham and Women's Hospital in Boston. In addition, she has worked as an assistant professor in obstetrics and gynecology at Columbia University Medical Center in New York with the primary responsibility of teaching residents and medical students. Dr. French is now at Boston Children's Hospital and is on the associate staff of Brigham and Women's Hospital in the department of pediatric and adolescent gynecology. Her current academic appointment is Clinical Instructor of Obstetrics, Gynecology and Reproductive Biology at Harvard Medical School. Dr. French has delivered over a thousand babies over the course of her career.Susan Thomforde, C.N.M., has been a practicing nurse midwife for more than 27 years. She's been called "a midwife's midwife"--the highest compliment in midwifery. She was a member of the Tufts University faculty while working at St. Margaret's Hospital and has been an adjunct faculty member for Yale University, Case Western Reserve University, and University of Pennsylvania midwifery students. For the past 17 years, she's been delivering babies at the North Shore Birth Center in Beverly, Massachusetts--one of two free-standing birth centers in the state of Massachusetts. Susan was inspired to be a midwife by her aunt, who was one of the early nurse-midwives in the United States in the 1930s.Jeanne Faulkner, R.N., has a 20-year history as a labor and delivery, postpartum, neonatal, and NICU nurse and a ten-year history as a health writer. She studied nursing at Los Angeles County-USC Medical Center School of Nursing and California State University, Los Angeles. She's helped thousands of parents through every possible birthing scenario from the most natural to the most complicated. She shares her real world perspective and practical advice on the obstacles and opportunities parents face both inside and outside the hospital in her weekly column for Fit Pregnancy magazine online called "Ask the Labor Nurse," and contributes regularly to Fit Pregnancy magazine, the Oregonian newspaper, The Huffington Post, QualityHealth.com, and MyRegence.com. Her work has appeared in Better Homes and Gardens, Real Simple, Shape, Northwest Healthy Living, and many other publications and websites. She's also an advocate, writer, speaker, and lobbyist for global women's and maternal health issues and has traveled with CARE (a global humanitarian organization) to work with mothers around the world.Dana Rousmaniere is a writer, editor, and author who has written for print and online publications, including Good Housekeeping, Healthy Living, Living Fit, Women's Health, The Atlantic Monthly Online, Babble.com, CafeMom.com, and more. She was managing editor of Fit Pregnancy magazine online for many years, and has also held positions as senior producer at Lifetime Television Online and new media editor for Hearst Publishing. Her Fit Pregnancy blog, The Charlie Chronicles, was a finalist for the 2007 Maggie Awards for Best Regularly Featured Web Column. She is also the author of North Shore Baby, a field guide for Boston-area parents. Dana delivered two of her babies in hospital deliveries with epidurals, and delivered her third child - a 10.5 pound baby! - in a drug-free water birth. She lives with her husband and three children on Boston's North Shore.
or
Not Currently Available for Direct Purchase