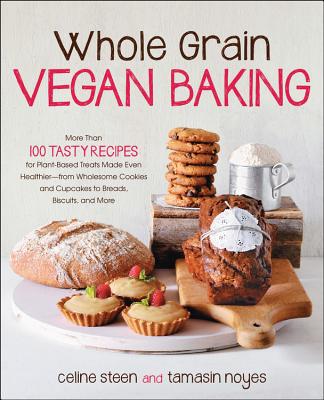 Whole Grain Vegan Baking (Paperback)
More Than 100 Tasty Recipes for Plant-Based Treats Made Even Healthier-From Wholesome Cookies and Cupcakes to Breads,
Fair Winds Press (MA), 9781592335459, 176pp.
Publication Date: April 1, 2013
* Individual store prices may vary.
Description
Have Your Cake and Feel Good About It Too
Do whole grain flours intimidate you? Does amaranth flour sound fascinating but perhaps a little too froufrou? Do you love the chocolate cherry scones at your local coffee shop, but feel way too scared to attempt them on your own?
Fears begone You are now in the safe (albeit floury) hands of Celine Steen and Tamasin Noyes, two vegan ladies who know their way around the oven--and barley and buckwheat flour too. Expect to see not an ounce of white flour, refined white sugar, or powdered egg replacer in this book. Instead, indulge in wholesome breads, muffins, pies, pancakes, and other treats that draw on the nutty depth of flavor and enhanced taste of ingredients like whole grain flours and natural sweeteners.
All you need is a bowl, a spoon, and a little "can-do " attitude to whip up treats like Caramel Nut Barley Squares, Potato and Walnut Wheat Bread, and Chocolate Raspberry Tart. With more than 100 recipes to choose from, the hardest thing you'll have to do is pick out what to bake first
Your taste buds will love you, your friends will adore you, your waist will thank you, and the planet will be singing your praises with Whole Grain Vegan Baking. You're just a whisk away
About the Author
Celine Steen is the co-author of 500 Vegan Recipes, The Complete Guide to Vegan Food Substitutions, Hearty Vegan Meals, Vegan Sandwiches Save the Day!, Whole Grain Vegan Baking, The Great Vegan Protein Book, and the upcoming The Great Vegan Grains Book. She is the founder of the award-winning blog Have Cake, Will Travel (www.havecakewilltravel.com). Tamasin Noyes is the author of American Vegan Kitchen, Grills Gone Vegan, Vegan Sandwiches Save the Day!, Whole Grain Vegan Baking, and the upcoming The Great Vegan Protein Book. She is the founder of www.veganappetite.com and has worked as a committed cookbook tester for many well-known vegan cookbook authors (such as Isa Chandra Moskowitz, Terry Hope Romero, Robin Robertson, Dynise Balcavage, and Kelly Peloza) and has cooked in several restaurants.
Praise For Whole Grain Vegan Baking: More Than 100 Tasty Recipes for Plant-Based Treats Made Even Healthier-From Wholesome Cookies and Cupcakes to Breads,…
"Expand your pantry and palate at the same time with truly inspired whole grain creations. Be it sweet or savory, Celine and Tami have a satisfying answer to your every craving. This book will delight eaters and bakers for years to come." —Hannah Kaminsky, author of My Sweet Vegan, Vegan Desserts, and Vegan à la Mode"This book proves that healthy and delicious are not mutually exclusive terms. Tami and Celine's welcoming tone makes you feel like they're right there with you in your kitchen, shouting words of whole-grain encouragement! With lips-smackers like Mini Lime Bundt Cakes, Spicy Cranberry Cornbread, and Kicked-Up Chocolate Cookies, they make ditching the white flour easy and scrumptious." —Dynise Balcavage, author of The Urban Vegan, Celebrate Vegan, and Pies and Tarts with Heart"Whole Grain Vegan Baking transcends basic whole wheat flour and makes wholesome treats that shine by introducing a variety of grains and flours in a collection of unique and inspired recipes. Complete with captivating photographs, Tami and Celine's creations present irresistible solutions to healthful baked goods and desserts, each one splendidly imaginative." —Kelly Peloza, author of The Vegan Cookie Connoisseurand Cheers to Vegan Sweets!"Celine and Tamasin have your back with creative and satisfying recipes that utilize the best grains for the job, so you can feel good about whipping up a batch of Peanut Butter Surprise Cookies regularly." —Kris Holechek Peters, author of The 100 Best Vegan Baking Recipes, Have Your Cake and Vegan Too, and The I Love Trader Joe's Vegetarian Cookbook
"Looking for a way to eat more baked goods without the guilt? Steen and Noyes's (Vegan Sandwiches Save the Day!) latest title featuring whole grain flours, less-refined sugars (agave, Sucanat), and minimally processed fats like coconut and olive oils may be the answer. This may sound like a recipe for slightly sweetened cardboard, but the tempting photos for recipes such as sweet potato waffles, braided almond oat bread, Kicked-Up Chocolate Cookies, and caramel nut barley squares tell a different story. Savory items such as breads, bagels, and crackers complement the sweet. Most recipes use a mix of flours, and a guide to flours and other ingredients is included. VERDICT Vegans who were drawn to Kim Boyce's Good to the Grain but didn't feel up to adapting her whole-grain baking recipes will be pleased with this title. This standout work should also appeal to bakers looking for healthier recipes than those found in popular vegan baking books by authors such as Isa Chandra Moskowitz, Terry Hope Romero, Doron Petersan, and Erin McKenna." — Library Journal