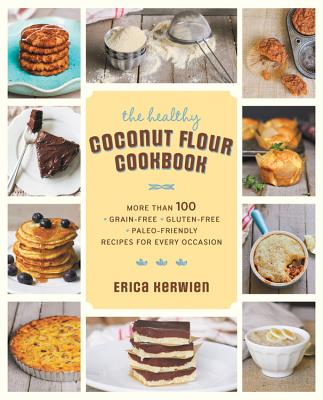 The Healthy Coconut Flour Cookbook
More than 100 *Grain-Free *Gluten-Free *Paleo-Friendly Recipes for Every Occasion
Paperback

* Individual store prices may vary.
Description
Discover the Wonders of (Naturally Gluten-Free) Coconut Flour!
Coconut flour is quickly becoming one of the most popular flours on the market today, and deservedly so. It contains no gluten and no grain, and is low in digestive carbs and high in fiber, making it a favorite among Paleo, gluten-free, grain-free, nut-free, and low-glycemic dieters. In addition to what coconut flour doesn't contain, what it does contain is just as impressive. Not only is it packed with protein, but it also contains four times more fiber than oat bran; just a few tablespoons provides you with between 25 to 50 percent of your daily required intake! Unlike gluten-free flour mixes, however, coconut flour may be used on its own and contains only one, all-natural ingredient coconut. Yet its pure, slightly sweet taste is subtle enough that even coconut haters won't be able to detect it, and it lends itself perfectly to baked goods, creating results far superior to many other gluten-free treats. One bite of light and moist coconut flour bread is sure to have you addicted!
Inside, you'll learn how to bake wonderful muffins, cakes, cookies, savory bites and more with this amazing flour, which is now easy to find in most grocery stores and online. No fillers, additives, and gums here - just simple, all-natural treats such as:
* Cheddar Biscuits * Skillet Cornbread * Chocolate Chip Scones * Spiced Pumpkin Bread * Carrot Cake * Chocolate Layer Cake * Red Velvet Cupcakes * Pesto Flatbread Pizza * Garlic-Cauliflower Breadsticks * Spinach Mushroom Feta Crêpes * Coconut Shrimp with Sweet Chili Dipping Sauce
Author and blogger Erica Kerwien (www.comfybelly.com) will walk you through everything you need to know for using the flour with great results. You'll also find a handy icon guide for those recipes that are (or can be made) Paleo, grain-free, gluten-free, dairy-free, nut-free and more, so in no time you'll be whipping up new favorites that will please everyone (and every diet) at your table.
Praise For The Healthy Coconut Flour Cookbook: More than 100 *Grain-Free *Gluten-Free *Paleo-Friendly Recipes for Every Occasion…
"Erica's book has made me want to race into the kitchen and bake popovers right now!" - Shauna Ahern, author of Gluten-Free Girl Every Day
"Erica's grain-free recipes hit the spot every time—an especially remarkable feat given how tricky coconut flour can be. If you have food allergies, or even if you're just looking for healthier treats, The Healthy Coconut Flour Cookbook is for you." - Michelle Tam, author of Nom Nom Paleo
"The Healthy Coconut Flour Cookbook is an amazing resource for anyone who's interested in creating delicious and nutritious food." - Robynne Chutkan, M.D., author of Gutbliss andfounder of The Digestive Center for Women
Fair Winds Press, 9781592335466, 160pp.
Publication Date: June 1, 2014
About the Author
Erica Kerwien is the founder of Comfy Belly (www.comfybelly.com) and author of Cooking for the Specific Carbohydrate Diet and The Healthy Coconut Flour Cookbook. She creates healthy recipes and treats for gluten-free, grain-free, dairy-free, and other lifestyles using simple, nutrient-dense ingredients. Her recipes are geared toward digestive health and clean eating.