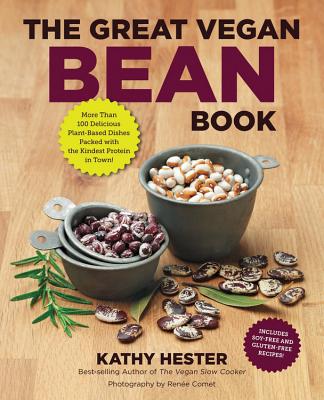 The Great Vegan Bean Book (Paperback)
More Than 100 Delicious Plant-Based Dishes Packed with the Kindest Protein in Town! (Great Vegan Book)
Fair Winds Press (MA), 9781592335497, 192pp.
Publication Date: June 1, 2013
* Individual store prices may vary.
Description
Garbanzo. Cannellini. Fava. Calypso. Edamame. Adzuki. It's true: beans have the coolest names ever. But besides that, they're also one of nature's most perfect foods. Packed with protein, nutrients, and flavor, you might even call them a vegan's #1 best friend (don't worry, we won't tell the trail mix, veggies, or French fries ).
But with so much versatility and variety, where does one begin? Right inside these very pages, that's where. In The Great Vegan Bean Book, author Kathy Hester primes you on everything you need to know about the best way to cook--and eat --every bean you've ever seen (and a few you probably haven't). From soaking times, to cooking times, to what to pur e, to what to saut , you'll be dancing delicious circles around those legumes in no time.
Not only that, but you'll also get to try your hand--or is it your mouth?--at some of the tastiest, most innovative bean recipes in this lentil-filled land. From beanalicious burritos, to pretty-pea curry, to legume-laced blondies, you'll be partying protein-style, every meal of the day
About the Author
Kathy Hester is the founder of the blog Healthy Slow Cooking (http: //www.healthyslowcooking.com) and author of The Vegan Slow Cooker, Vegan Slow Cooking for One or Two, Oatrageous Oatmeals, The Great Vegan Bean Book, The Easy Vegan Cookbook, and The Ultimate Vegan Cookbook for Your Instant Pot. She writes for various online health and cooking websites, including Bright Hub (http: //www.brighthub.com), Divine Caroline (http: //www.divinecaroline.com), Everything Mom (http: //www.everythingmom.com), and The Healthy Hostess (http: //www.thehealthyhostess.com). She lives in Durham, North Carolina.Kathy Hester lives in Durham, NC with her two cats who would rather not live together, a cute dog with a belly rub addiction, her very own picky eater, a kitchen garden, and more slow cookers than one person should own. She writes HealthySlowCooking.com, is the vegan blogger for Key Ingredient (http: //www.keyingredient.com/blog/bloggers/kathy-hester) and writes for various publications like Chickpea Magazine. She also teaches vegan cooking classes, has put together a social media class for writers and has more classes in the works.
Praise For The Great Vegan Bean Book: More Than 100 Delicious Plant-Based Dishes Packed with the Kindest Protein in Town! (Great Vegan Book)…
"Beans! Beans! Beans! Never have there been so many delicious recipes for these simple little nuggets of goodness compiled into one, beautifully photographed, cookbook. An absolute must for everyone's bookshelf."—Joni Marie Newman, co-author of The Complete Guide to Vegan Food Substitutions

"The Great Vegan Bean Book is a masterpiece! Kathy Hester takes beans beyond the boundaries of your imagination and into the land of sweet decadence and savory delights that will make you fall head over heels in love with beans." —Alicia C. Simpson, author of Quick and Easy Low-Cal Vegan Comfort Food
"Get ready to fall in love with beans! Kathy Hester's recipes are fresh, creative, and deceptively simple, and she helpfully provides gluten-free, soy-free, and oil-free options—cool beans, indeed!"—Susan Voisin, FatFreeVegan.com "If you were doubting the beloved legume's superpowers, let Kathy Hester's brand new book show you that there's just nothing they can't do for you: breakfast, lunch, dinner, and even dessert. All irresistibly magical, all the time."—Celine Steen, co-author of Vegan Sandwiches Save the Day
"The Great Vegan Bean Book is a must-have book for any plant-powered kitchen. If you are looking to add more fiber- and protein-packed meals to your plate—simply and deliciously—this book is for you!"—Lauri Boone, R.D., author of Powerful Plant-Based Superfoods
"If you're in a bean-cooking rut, then you need this book. Kathy's bean-tastic recipes range from exquisite traditional soups and chilies to inventive creations that extend the boundaries of bean-based cooking (Lemon Coconut Chickpea Muffins, anyone?)." —Dynise Balcavage, author of Pies and Tarts with Heart "Beans — in all their humble, uncontroversial glory — finally get the respect they're due in Kathy Hester's completely nourishing and utterly gorgeous recipes. "— Nava Atlas, author of Vegan Holiday Kitchen "Whether you're a card-carrying bean-lover or simply want to add more healthy and inexpensive meatless meals to your repertoire, The Great Vegan Bean Book is for you. With a wide variety of tempting recipes from simple to sophisticated, Kathy Hester proves that beans can be anything but boring—and even downright dazzling."—Robin Robertson, author of Quick-Fix Vegan