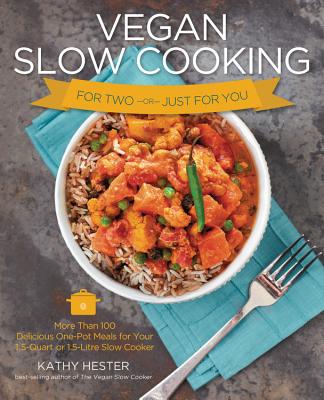 Vegan Slow Cooking for Two or Just for You
More than 100 Delicious One-Pot Meals for Your 1.5-Quart/Litre Slow Cooker
Paperback

* Individual store prices may vary.
Description
If you have a small family or are looking for better-portioned vegan meals (that don't force you to eat chili for a week straight!), Vegan Slow Cooking for Two or Just for You is the perfect resource for you. Featuring recipes geared specifically for use with a 1.5- to 2-quart slow cooker, you'll find endless meal ideas that you can make with minimal effort and maximum taste. Just prep a few items the night before or morning of, and come home to a hot meal - or even side or dessert - the moment you walk in the door! The little slow cooker is so easy to use that it makes cooking everyday a snap, so you can have a healthy variety of foods at a fraction of the cost of eating out. Inside, you'll find a whole new world of food to fall in love with, from breakfast-y Pumpkin Polenta to comforting White Bean Quinoa Gumbo to luscious Blueberry Lemon Cake. You'll be amazed at what your little slow cooker can do!
Praise For Vegan Slow Cooking for Two or Just for You: More than 100 Delicious One-Pot Meals for Your 1.5-Quart/Litre Slow Cooker…
Hester (The Vegan Slow Cooker; The Great Vegan Bean Book) presents a collection of unique small batch recipes, from breakfast to dessert. As in her first slow cookbook, Hester covers staples including stews and unexpected treats such as cookies. The book opens with a brief overview of slow cooking and vegan alternatives for meat and dairy; subsequent recipes introduce both basic ingredients (e.g., nut ricotta, spice blends), as well as hard-to-find items. Dishes such as Cheezy Butternut Squash Macaroni or tamarind tempeh will satisfy a range of palates and diverse dietary needs and preferences. Recipes contain oil, soy, and gluten-free options, and substitutions for many dishes make the most of seasonal vegetables or whatever grains and proteins are on hand. Hester provides a nutritional breakdown of fat, protein, cholesterol, fiber, and calories per serving along with each recipe. The text is accompanied by beautiful photographs, demonstrating that slow-cooked food can be vibrant and colorful. VERDICTVegans, vegetarians, and anyone seeking healthy, appetizing slow cooker recipes in small portions will find this title informative and inspiring. - Library Journal

Fair Winds Press, 9781592335633, 176pp.
Publication Date: August 1, 2013
About the Author
Kathy Hester is the founder of the blog Healthy Slow Cooking (healthyslowcooking.com) and author of The Vegan Slow Cooker, Vegan Slow Cooking for One or Two, Oatrageous Oatmeals, The Great Vegan Bean Book, The Easy Vegan Cookbook, and The Ultimate Vegan Cookbook for Your Instant Pot. She writes for various online health and cooking websites, including Bright Hub (brighthub.com), Divine Caroline (divinecaroline.com), Everything Mom (everythingmom.com), and The Healthy Hostess (thehealthyhostess.com). She lives in Durham, North Carolina.
Kathy Hester, author of the bestselling cookbook The Vegan Slow Cooker and the upcoming The Great Vegan Bean Book, enjoys spreading the word about how easy it is to make tasty vegan food. She writes HealthySlowCooking.com, is the vegan blogger for Key Ingredient (http://www.keyingredient.com/blog/bloggers/kathy-hester), and writes for various publications, including the vegan magazine Chickpea. She also teaches vegan cooking classes. She lives in Durham, NC. Visit her at www.HealthySlowCooking.comKate Lewis is an Ohio-based food, lifestyle and portrait photographer whose work brings her to multicultural, sophisticated and vibrant cities like New York, LA, Montreal and beyond. Kate is also a sought after vegan food stylist and has worked on prominent projects with authors such asChristy Morgan, Isa Chandra Moskowitz, Kathy Hester and Terry Hope Romero. With a passport in hand, she is ready to travel to wherever her skills are needed. Also, found in her repertoire are prop styling and art direction, which comes in handy when working with a small crew.You can find out more about Kate's day to day adventures on her blog LeChouSauvage.com, which showcases the beauty and artfulness of natural whole foods or watch her ever growing Twitter or Instagram feed develop (@lechousauvage.)