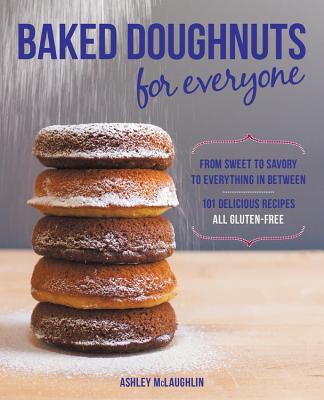 Baked Doughnuts For Everyone (Paperback)
From Sweet to Savory to Everything in Between, 101 Delicious Recipes, All Gluten-Free
Fair Winds Press, 9781592335664, 176pp.
Publication Date: October 1, 2013
* Individual store prices may vary.
Description
Gluten-Free Doughnuts, Baked to Perfection! Who doesn't love a doughnut? From their pillowy soft texture, to their perfect size and shape, to their sweet glazes and sprinkles--they're everyone's favorite treat. They're always unhealthy, and you can only get them at the bakery right? Not anymore--this doughnut cookbook is for everyone! With Baked Doughnuts for Everyone, you can now enjoy fresh--completely gluten-free!--doughnuts from the comfort of your own kitchen, without having to fuss over a fryer. All you need is a doughnut pan, a mixing bowl, and a few simple ingredients like oat flour, almond meal, and pure cane sugar. The result--truly cake-like doughnuts with no grainy texture and no scary starches or gums--only pure, all-natural flavor. No one will ever even guess they're gluten-free, whether they follow a wheat-free diet or not! From sweet confections to more savory combinations, you'll find recipes to suit every occasion and every taste, including:
-Cinnamon Sugar Doughnuts
-Apple Fritter Doughnuts
-Peanut Butter Crunch Doughnuts
-Vegan Gooey Chocolate Doughnuts
-Jalapeno Cheddar Doughnuts
-Greek Stuffed Doughnuts
We all need more doughnuts in our lives and now it's easier than ever--what are you waiting for?
About the Author
Ashley McLaughlin is the writer, recipe developer, and photographer for the blog Edible Perspective (www.edibleperspective.com/). Her recipes have been featured in Oprah Magazine, Women's Health, Fine Cooking, the Gourmet blog, The Kitchn, The Huffington Post, and more. Ashley has also had her photos published in the New York Times best-selling cookbook Peas and Thank You. In 2011, Edible Perspective won Best Photography Blog from the Foodbuzz Blog Awards.