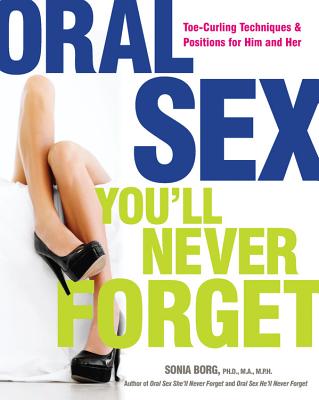 Oral Sex You'll Never Forget (Paperback)
Toe-Curling Techniques and Positions for Him and Her
Quiver, 9781592335930, 272pp.
Publication Date: September 1, 2013
* Individual store prices may vary.
Description
Great oral sex is an experience that can engage all the senses and thrill the body from head to toe, if performed in the right way. Oral Sex You'll Never Forget goes beyond Oral 101 and offers you step-by-step fellatio and cunnilingus techniques that will bring your lover to their knees… and a few other mind blowing positions. Learn mouth and tongue techniques, unusual positions that bring a new twist to oral pleasure, and scenarios and setting suggestions that take even the most basic blow job over the top.
About the Author
Dr. Sonia Borg earned her Ph.D. in human sexuality and masters in public health from The Institute for The Advanced Study of Human Sexuality in San Francisco and her masters degree in communication from San Francisco State University. She is certified as a clinical sexologist by the American College of Sexologists and is a member of The American Association of Sexuality Educators Counselors and Therapists (AASECT). Sonia has been featured on television and radio shows such as Discovery Channel Canada, Playboy Radio, Good Morning San Diego, and programs on KUSI in San Diego. Her authentic, dynamic, and engaging style makes her a sought-after speaker, educator, author, and sex expert. She lives in Lahaina, Hawaii. Visit her website at www.thehappyendingscompany.com.