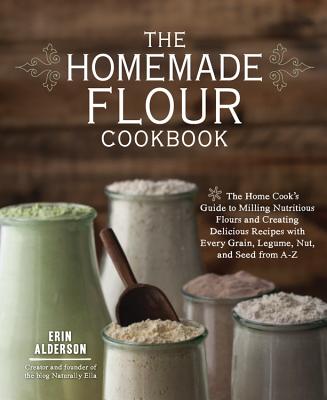 The Homemade Flour Cookbook (Paperback)
The Home Cook's Guide to Milling Nutritious Flours and Creating Delicious Recipes with Every Grain, Legume, Nut, and Seed from A-Z
Fair Winds Press, 9781592336005, 224pp.
Publication Date: June 1, 2014
* Individual store prices may vary.
Description
Have you heard? Milling at home can be less expensive and healthier than buying pre-ground flours! Much of the flour that is sold in grocery stores has been stripped of its nutrients and has extra ingredients and preservatives added to prolong shelf life. Not only that, but some flours, like almond, can run as high as $15 per bag! There has to be a better way.
There is with The Homemade Flour Cookbook. Erin Alderson will explore the different ways to grind flour including electric and non-electric grinders, food processors, blenders, and even coffee grinders, making it easy for any do-it-yourself homemaker to have fresh flour whenever needed.
Try out great grain recipes like Cheddar Rosemary Farro Scones, Zucchini Feta Empanadas, Einkorn Biscuit Cinnamon Rolls, and Black Pepper Pasta with Goat Cheese and Pesto. There are also dozens of Gluten-Free recipes. Check out Cheddar jalapeño quesadillas with quinoa tortillas, Berry Crisp with Oat Dumplings, or Buckwheat Dutch Baby with Maple Cherries! There are even recipes for legume, nut, or seed flours. Flatbread with sun-dried tomato dip and Feta and Curried Red Lentil Dip are just a few of the recipes that you'll make with your own hand-milled flour!
About the Author
Erin Alderson is the recipe developer, photographer and voice behind the whole foods, vegetarian blog Naturally Ella. Erin started blogging on a whim in 2007 as a healthy baking blog but has since then grown into a thriving seasonal, whole foods resource site. She grew up in a traditional middle class family that had a diet largely subsistent on fast food. Five years ago Erin's father suffered a massive heart attack leaving Erin to question her own health and eating habits. Since then, she has ditched processed foods in lieu of a whole foods. Erin is a large proponent of local agriculture and seasonal eating which has become a large part of the Naturally Ella. Erin is also the author of The Homemade Flour Cookbook (Fair Winds Press). www.naturallyella.com
Photographer and Web designer Erin Alderson is the voice behind Naturally Ella, a whole foods, vegetarian blog that features accessible, healthy recipes. Erin's work has been featured on The Kitchn, Food and Wine, Food52, and Bon Appetit. When not creating a mess in the kitchen, Erin can be found in the mountains hiking or snowboarding. She currently resides in Sacramento, California, with her husband, Mike, and her husky, Radar.
Praise For The Homemade Flour Cookbook: The Home Cook's Guide to Milling Nutritious Flours and Creating Delicious Recipes with Every Grain, Legume, Nut, and Seed from A-Z…
"Erin's easy-to-follow instructions on milling your own flour will have even the most inexperienced cook running for the kitchen." --Ashley McLaughlin, author of Baked Doughnuts for Everyone
"So many great ideas in this book and a find for anyone experimenting with alternative flours in both sweet and savory cooking." --Sara Forte, author of The Sprouted Kitchen
"It is hard not to get inspired by Erin's passion for milling ancient grains, nuts, and legumes in her kitchen. If you are curious about exploring amaranth, teff, spelt, or Kamut, you'll want this book. You might even buy a grain mill!" --Maria Speck, author of the award-winning Ancient Grains for Modern Meals, a New York Times notable book and winner of the Julia Child Cookbook Award