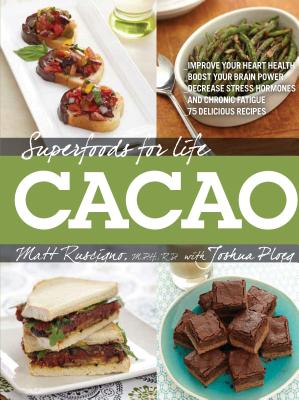 Superfoods for Life, Cacao
- Improve Heart Health - Boost Your Brain Power - Decrease Stress Hormones and Chronic Fatigue - 75 Delicious Recipes -
Paperback

* Individual store prices may vary.
Description
Are you craving chocolate? Go ahead, give in! Cacao--raw chocolate--often referred to as "food of the gods" is high in antioxidants. It is also an excellent source of magnesium, iron, chromium, manganese, zinc, and copper. A good source of omega-6 fatty acids and rich in heart-healthy oleic acids, it will boost your mood, improve cognition and help lessen stress! Sounds too good to be true, but it isn't! As author Matt Ruscigno explains, this hot superfood has powerful benefits. Then Matt gives you what you really want--recipes for chocolate! Superfoods for Life, Cacao contains 75 recipes for sweet and savory cacao recipes--from main dishes to desserts--including Huitlacoche-Chocolate Empanadas, Cocoa Buffalo Tempura Vegetables, Dolmathes with Currant-Chocolate Rice and Cacao Tzatziki.
"Superfoods for Life: Cacao is a gorgeous, fun, and fascinating book. It is chalk full of fresh perspectives on a food that is often thought of as little more than a candy bar. If you think chocolate is exclusively for dessert, be prepared to expand your bittersweet horizons. This book deserves a place on the shelf of every culinary enthusiast!" - Brenda Davis and Vesanto Melina, co-authors of Becoming Vegan: Comprehensive Edition (2014) and the award-winning, Becoming Vegan: Express Edition (2013)
"Dietitian Matt Ruscigno, a respected authority on diet and chronic disease, shows readers how chocolate--yes, chocolate!--can help prevent heart disease, diabetes, stroke, and dementia. There is no hype here--just the kind of solid research and science-based advice that Matt is known for. And wow--the recipes! There are cookies and cake, of course, but the show-stoppers are healthy, savory dishes like Velvety Chocolate Vegetable Tarts and Chocolate Marinara Sauce, and a chocolate-infused guacamole. This is healthy eating at its best: simple, incredibly delicious, and fun." - Virginia Messina, author of Vegan for Life and Vegan for Her
"I knew cacao was both delicious and super nutritious. But what I didn't know was how it could be so extensively used to create such a wide diversity of amazing recipes with the depth and texture to please even the most finicky connoisseur. Superfoods for Life: Cacao educates and inspires with a fresh take on this miraculous superfood with a diversity of unique and accessible recipes. But what distinguishes this cookbook from the fray is the authority and compassion of author Matt Ruscigno--a dietitian, nutritionist, and athlete of unparalleled reputation with a unique facility for helping countless make the transition to healthier, more sustainable diet and lifestyle habits. This book is a must for anyone looking to take their healthy kitchen to the next level!" - Rich Roll, plant-based endurance athlete and best-selling author of Finding Ultra: Rejecting Middle Age, Becoming One of the World's Fittest Men, and Discovering Myself
"Superfoods for Life: Cacao allows you to feel truly good about your love affair with chocolate. The book traces the amazing history of cacao and provides scientific facts about the health benefits of this plant-powered food. And best of all are the eclectic recipes, ranging from chocolate pizza to cocoa goulash!" - Sharon Palmer, R.D.N., The Plant-Powered Dietitian(tm) and author of Plant-Powered for Life
Praise For Superfoods for Life, Cacao: - Improve Heart Health - Boost Your Brain Power - Decrease Stress Hormones and Chronic Fatigue - 75 Delicious Recipes -…
"If you find yourself craving chocolate, this is the book to have on hand, as it's packed with lots of chocolaty goodness." - ChicVegan.com
"The coolest thing I like about their book is that it's not marketed as a "vegan cookbook." I LOVE SNEAKY VEGAN ACTIVISM! It's actually part of a series of superfoods cookbooks, some of which are not vegan. It's a great gift for omni friends or family members who are into chocolate and/or into superfoods and health!" - Vegansaurus.com
Fair Winds Press, 9781592336104, 192pp.
Publication Date: September 1, 2014
About the Author
Matthew Ruscigno, MPH, RD, holds two degrees in nutrition and is past chair of the Vegetarian Nutrition Dietary Practice Group of the Academy of Nutrition and Dietetics. In addition to his public health work, Matthew has a private practice and works closely with vegan athletes. An athlete himself, he has raced "The World's Toughest Iron-Distance Triathlon" in Eidfjord, Norway, ultramarathons, and 24-hour mountain bike races. He is a three-time finisher of the Furnace Creek 508, a 500-mile non-stop bike race that National Geographic calls the eighth hardest race in the world. Matthew contributed to the bestseller Appetite for Reduction: 125 Fast and Filling Low-Fat Vegan Recipes by Isa Chandra Moskowitz. Matthew lives in San Diego, California.
Joshua has been a vegan personal chef/caterer, writer, and punk musician since the 1990s. He has spent the last ten years touring the United States and the world, cooking in varied and interesting circumstances from place to place. He has penned several cookbooks, including This Ain't No Picnic, In Search of the Lost Taste, and Something Delicious This Way Comes: Spellbinding Vegan Cookery. He has also contributed recipes and columns to various publications including Brooklyn's Satyamagazine.
or
Not Currently Available for Direct Purchase