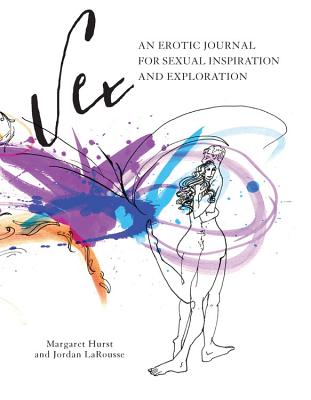 Sex
An Erotic Journal for Sexual Inspiration and Exploration
Paperback

* Individual store prices may vary.
Description
Feeling a little lover's block? Open the pages to write down your thoughts and feelings, draw your naughty urges, or simply be inspired by erotic quotes, sketches, sexy tips, and suggestions for expressing yourself erotically through words, sketches and doodles. Sex: An Erotic Journal for Sexual Inspiration and Exploration offers the perfect place to record hot fantasies, past sexual experiences, and dream up future ones. Sex: An Erotic Journal for Sexual Inspiration and Exploration includes plenty of space to write, illustrate, and fantasize. This journal includes exercises and thought-provoking questions to help you engage, reflect, and ruminate on your deepest desires such as: "When my lover touches me I feel...", "A sex act I fantasize about but have never tried is...". This hot and steamy diary prompts you to express your desires through drawing exercises and erotic illustrations. Quotes, sexy advice and tips, and erotic drawings make the book usable, beautiful, and inspirational.
Quiver, 9781592336111, 160pp.
Publication Date: July 15, 2014
About the Author
Jordan LaRousse is a co-owner and co-editor of the premier online magazine for women's erotica, Oysters & Chocolate (www.oystersandchocolate.com) along with Samantha Sade. The site is now home to over 700 articles and stories, 24,000 unique visitors per month and over 50 galleries of stimulating erotic art. O&C is the sex-positive playground for adult women of all ages and demographics. Through Oysters & Chocolate, the duo strives to not only provide quality literary erotica, but to engage women from all walks of life in the topic of sex in a fun and informative way. The sex-advice question and answer column 'Ask Jordan,' as well as the many toy, video, website, and product reviews written by Jordan and Samantha have established the site as a serious and trusted place to go for sex information and education. LaRousse is the co-author of Penis Genius, Clit-ology, and Mastering Your Man from Head to Head and the co-editor of two erotic anthologies. She believes that great sex comes from that spark when the mind, body, and imagination come together in perfect harmony. She is based in Denver, Colorado.
Margaret Hurst creates reportage and illustrations that are not what you would expect, yet are exactly what you want: intelligent, cultural, uniquely personal. A professor at Pratt Institute and Parsons, the New School, in New York, NY, this Virgin Island native works in all areas, with all mediums, and always in good design. She is the author/illustrator of the award winning, Grannie and the Jumbie, published by Laura Geringer Books. Other culturally influenced books include ZoGe, Mert Tangare, Anansi Stories, Frog Sex, A Mid Summer-Night's Dream and The Arabian Nights. Her corporate clients include AT&T, MasterCard, Anthology/Preface, General Glass, Pfizer Pharmaceuticals, Veritas Ventures, MedicusNY, Roche and Neurex, the biotechnology firm for whom she created the ad campaign for SNX-111, a non-addictive pain killer derived from the venom of the cone snail. Her silk scarf design for Roche Pharmaceuticals was exhibited at the 2004 AIDS conference in Bangkok. Ms. Hurst's art is in the private collections of numerous individual art enthusiasts. Margaret has shown her work at the Metropolitan Museum of Art, the Schafler Gallery, the Puck Gallery, AT&T Headquarters in New Jersey, Messiah College, the Society of Illustrators, the Ellis Island Immigration Museum, the Rx Club and Neurex Headquarters in California.
or
Not Currently Available for Direct Purchase