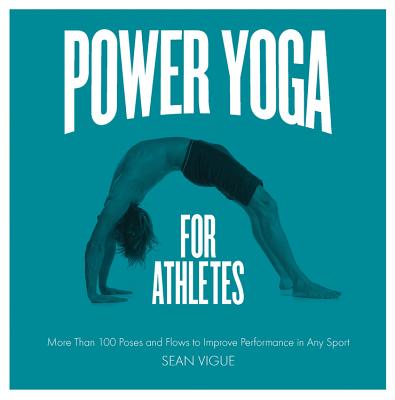 Power Yoga for Athletes
More than 100 Poses and Flows to Improve Performance in Any Sport
Paperback

* Individual store prices may vary.
Description
Boost your athletic performance with the strength, balance, and focus of power yoga. With step-by-step, photo-illustrated instruction for over 100 yoga poses, Power Yoga for Athletes is a whole-body program for cross-training and conditioning.
Whatever your sport, yoga is the perfect total body and mind workout, the ideal cross-training tool, and an excellent stand-alone exercise. Use this yoga program created by fitness instructor Sean Vigue to
improve balance, focus, control, breathing, posture, and flexibility
;
strengthen your back, joints, and core
; or
reduce or heal from injury
.
Yoga benefits athletes of all types, helping you to improve your athletic prowess and hone new strengths. You'll find many poses ideal for the sport of your choice, including:
running
,
swimming
,
cycling
,
golfing
,
baseball
,
basketball
,
soccer
,
football/rugby
,
hockey
, and
tennis
.
Each yoga pose features:
Step-by-step directions
Instructional photography
Illustrations showing the muscles being worked
Description of its overall benefits
The sports for which the pose is ideal
Get the balance, strength, and focus you need to perform at your best.
Praise For Power Yoga for Athletes: More than 100 Poses and Flows to Improve Performance in Any Sport…
"Sean brings a lightness to any heavy-duty workout. His sense of humor keeps you smiling when your mind is telling you to frown and possibly give up. In my opinion, a light and kind teacher that can also encourage you to meet your edge is a treasure - and Sean is that!" - Adriene Mishler of Yoga with Adriene
"Sean teaches a challenging yet super fun yoga class. He is a master at what he does." - Heather Kapande,owner Nick's Pro Fitness in Evergreen, Colorado
"Seans Power Yoga workouts are my go to yoga workouts. He is an amazing instructor and I love the way he always makes me laugh. Sean's Power Yoga workouts are a great way to start my day!" - Laura London of Laura London Fitness
"Working out with Sean is a blast! I refer my online clients to him because I know not only will they get a safe effective workout, they are sure to be entertained in the process!" - Dana Chapman of RealFitTV
"I love Sean's dedication to yoga and working out, his fun personality and his commitment to helping people" - Ali Kamenova of Ali Kamenova Yoga
"I was in search of inspiration for yoga and pilates and when I found Sean online, I felt like I could accomplish my fitness goals and have fun at the same time! I had taken many different classes in person and online, but never did I connect with someone in such a human way. Sean is kind and thorough, yet silly enough to take your mind off of the many plankorific poses he teaches! His style of teaching is inclusive and full of variety, so you will never get bored. This combination makes for a long-term commitment from his students who keep coming back time and time again. I was so inspired by Sean that I became a yoga teacher myself! Thank you my friend for singing (sometimes literally) your inspirational teachings for all of us to forever enjoy!" - Natalie Cummings, Founder Cardio Yoga Fusion
"Talk about a perfect pitch! Sean Vigue has the moves, mojo, and motivation you need to reach that next level of fitness. His energy is contagious and his pipes are sublime. Go Sean, go!"—
Brooke Siler, best-selling author and Pilates "trainer to the stars"
"Power yoga is a perfect example of functional training. [It] increases your flexibility, strength and balance in such a way that you will feel more in balance doing your everyday tasks. [This is] a well-written book by Sean Vigue that demonstrates exercises you can do wherever you like. [It is] filled with instructional tips for the best exercises power yoga has to offer you. I definitely recommend this book to my followers, whether they are gymnasts, martial artists, or non-athletes!"—
Jerome Fishermen, JeromeFitness.com
"Sean is a talented and knowledgeable fitness instructor that I am proud to have had the privilege of working with. Beyond his technical skill and knowledge, he also has a personality that makes him easy to get along with, and helps him inspire everyone, regardless of age, skill level, or gender, to become active through yoga and Pilates. This book is going to be a standard for athletes that are interested in taking their game to the next level in non-traditional fitness areas."—
Dean Pohlman, owner Man Flow Yoga
"Sean teaches a challenging yet super fun yoga class. He is a master at what he does."—
Heather Kapande, owner Nick's Pro Fitness in Evergreen, Colorado
Fair Winds Press, 9781592336159, 208pp.
Publication Date: June 15, 2015
About the Author
Sean Vigue is Colorado's premier Yoga and Pilates instructor, creator of Pilates Style's "Best Male Workout of 2011" Pilates for Men DVD/Download. He launched his own complete online training program, "Sean's Vault," and has taught more than 5,000 group fitness classes. He has been featured in The Washington Post, Curious.com, Fox News, Pilates Style magazine, The Denver Post, Fit Bottomed Girls, The Broadway Blog, YoFitTV.com, and MyGeniusTrainer.com.