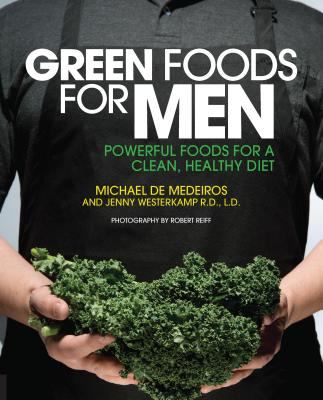 Green Foods for Men (Paperback)
Powerful Foods for a Clean, Healthy Diet
Fair Winds Press (MA), 9781592336326, 160pp.
Publication Date: January 1, 2015
* Individual store prices may vary.
Description
Man up No more feeding broccoli to the dog, or hiding your lettuce under your napkin-- It's time to get healthy and really improve your life. Want to boost your testosterone, improve sexual virility, promote prostate health, hair growth, and build muscle? Green Foods for Men offers 50 green easy-to-find superfoods, a green juicing and cleanse program, and a seven-day quick-start program for rapid weight loss and fast health and fitness improvements. Men's fitness expert Michael De Medeiros and registered dietician Jenny Westerkamp give you the facts along with macronutrient data of each green ingredient and an explanation for how to implement it into your healthy diet. Take the guess work out of eating healthy, man up and eat your greens.
"I LOVE this book Perfect for guys on so many levels: it's filled with eye candy (beautiful pics of sexy veggies), the BIG payoff (why guys should bother eating these greens for better health and you know wink]) and an overall fun and snappy read (perfect for either the "I-just-want-to-know-this" or binge reader)."--David Grotto, M.S., R.D.N., L.D.N., author of The Best Things You Can Eat
"Being a professional athlete, I am always looking for a competitive advantage. This book gave me that. My energy levels skyrocketed, allowing for a better training regimen. I'm no longer too tough to eat greens."--Tim Fugger, NFL linebacker
About the Author
Michael De Medeiros is the former vice president and editor in chief of Men's Fitness magazine, former editor in chief of Maximum Fitness magazine, and author of 13 books, including historical biographies, educational textbooks, and active health and fitness books. He has been nominated and shortlisted for several awards, including best book and best book in a series (Weigl Publishers).Jenny Westerkamp, RD, is a holistic-minded registered dietitian, speaker, and author. She is the Nutritionist for Kitchfix and an Advisor for On Demand Dietitian. Previously, she worked with professional and collegiate athletes across the country and was President of Chicago Food and Nutrition Network. Jenny has been interviewed for national media outlets and has spoken to groups on wellness, men's health, sports nutrition, and social media.
or
Not Currently Available for Direct Purchase