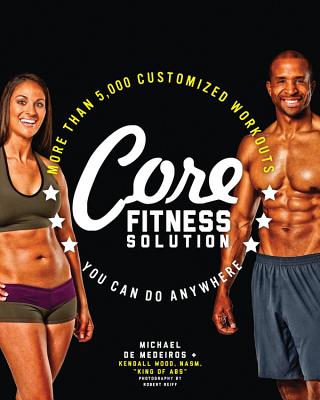 Core Fitness Solution (Paperback)
More than 5,000 Customized Workouts You Can Do Anywhere
Fair Winds Press, 9781592336401, 176pp.
Publication Date: November 15, 2014
* Individual store prices may vary.
Description
The promise of building a six-pack is found in many places--Results, however, are not. With Core Fitness Solution, those results are finally attainable. With more than 5,000 customizable solutions in this book, you pick the exercises. You decide the workout, the location, the duration and the intensity. Finally, a leaner middle, a stronger core, and the set of abs you've always wanted can be yours. Former editor-in-chief of Men's Fitness, Michael de Medeiros, and "King of Abs," Kendall Wood, have handpicked the most effective exercises to target all areas of your midsection. Crafting your core has never been so simple.
"As a professional athlete, I believe wholeheartedly in core fitness. I wish this was available to me during my playing days." - Verron Haynes, former pro football player
"As a trainer of many youth athletes that have had national and international success, I have had the opportunity to work with Kendall Wood for a few years. I have witnessed him utilizing these same techniques outlined in this book with noticeable, rapid improvement in strength and conditioning. His instructions are always clear, effective, and within the athlete's ability to execute. This is a great tool to have." - Blane Williams, Head Coach, The Heat Track Club (Marietta, GA)
"Core Fitness Solution is an incredibly useful guide for those who want to take their core to the next level." - Nadine Dumas, online transformation coach, www.nadinedumas.com
"I have been coaching youth football in metro Atlanta for 17 years. We were lucky enough to have Kendall Wood help develop our 7, 8, and 9 year old football players year round using the techniques and fundamentals taught in Core Fitness Solution. The core strengthening and stretching encouraged body awareness and control in our kids." - Nathan Halbrooks, Acworth (GA) youth football coach
"This is the most comprehensive abdominal/core book out there today. Kendall takes core training to another level. The standard has been set, and it's been set high." - Dr. Jeffrey M. Malucci
About the Author
Kendall Wood, NASM CPT, M.Ed., CES, PES, FNS CERTIFIED, the "King of Abs," is a multi-time fitness magazine cover model, NASM certified personal trainer, health advocate and a forerunner in the fight against childhood obesity. His foundation, Smart Moves, works to end obesity for children by partnering up with school boards and family associations. He is also the promoter of FitScience's annual fitness contest in Atlanta.
Michael De Medeiros is the former vice president and editor in chief of Men's Fitness magazine, former editor in chief of Maximum Fitness magazine, and author of 13 books, including historical biographies, educational textbooks, and active health and fitness books. He has been nominated and shortlisted for several awards, including best book and best book in a series (Weigl Publishers).