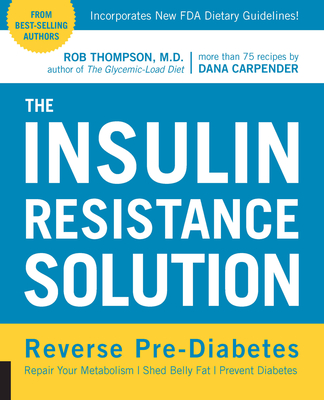 The Insulin Resistance Solution
Reverse Pre-Diabetes, Repair Your Metabolism, Shed Belly Fat, and Prevent Diabetes - with more than 75 recipes by Dana Carpender
Paperback

* Individual store prices may vary.
Praise For The Insulin Resistance Solution: Reverse Pre-Diabetes, Repair Your Metabolism, Shed Belly Fat, and Prevent Diabetes - with more than 75 recipes by Dana Carpender…
"The number of Americans who have the condition of insulin resistance now outnumber the people who do not--it is a rampant modern health issue responsible for weight gain, diabetes, premature aging and other common health problems. Dr. Thompson unravels the science and rationale for why this silent epidemic has occurred, while Dana Carpender provides her signature wit, charm, and clever low-carb recipe-spinning to provide practical solutions for undoing this condition." - William Davis, MD, Author of #1 New York Times Bestseller Wheat Belly: Lose the wheat, lose the weight and find your path back to health, The Wheat Belly Cookbook, and Wheat Belly 30-Minute (or Less!) Cookbook published by Rodale, Inc.
Fair Winds Press, 9781592336463, 192pp.
Publication Date: January 1, 2016
About the Author
Rob Thompson, MD is a board-certified cardiologist in private practice who has counseled patients with high cholesterol, diabetes, and heart disease for more than twenty-five years. He is the author of the bestselling The Glycemic-Load Diet, and The Glycemic-Load Diet Cookbook. Thompson resides in Seattle.
Dana Carpender (Bloomington, Indiana) is a pioneer of the low-carb movement and best-selling author of over 14 cookbooks, including The New 500 Low-Carb Recipes,1001 Low-Carb Recipes, 500 Paleo Recipes, 15-Minute Low-Carb Recipes, The Low-Carb Diabetes Solution Cookbook, 200 Low-Carb, High-Fat Recipes, The Low-Carb Diabetes Solution, The Insulin Resistance Solution, 500 Ketogenic Recipes, and many more. To date, her books have sold over a million copies worldwide. She writes about low-carb cooking and nutrition on her Facebook page, Dana Carpender's Hold the Toast Press.