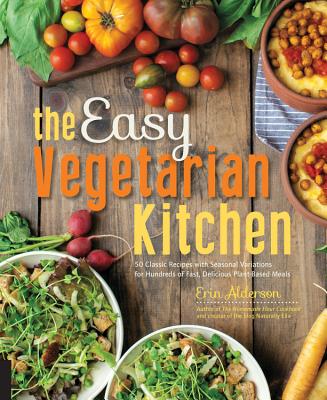 The Easy Vegetarian Kitchen (Paperback)
50 Classic Recipes with Seasonal Variations for Hundreds of Fast, Delicious Plant-Based Meals
Fair Winds Press, 9781592336586, 192pp.
Publication Date: April 15, 2015
* Individual store prices may vary.
Description
Fresh, delicious vegetables should be a staple of any diet, but if you've decided that you'd like to take your Meatless Mondays to a whole new level, then it might be time to ditch the processed foods and meats and try out a vegetarian diet. Eating vegetarian doesn't have to be complicated! In fact, it can be downright scrumptious and satisfying.
The Easy Vegetarian Kitchen helps you to create simple meals that will help you live a happier and healthier life. Erin Alderson, the popular voice behind the whole foods, vegetarian blog Naturally Ella, shows you how to easily eat plant-based vegetarian meals every day.
With 50 core recipes for everything from entrees to appetizers and desserts, The Easy Vegetarian Kitchen guides you through staple recipes such as salads, sandwiches, stir-frys, and stews and easily adapt them to seasonal or oh-hand ingredients. Enjoy spring's fresh asparagus in a delicious frittata and change it up for winter with Curried Butternut Squash and Feta. Core recipes allow readers to build an essential pantry list so eating vegetarian is always easy. And if you feel like going vegan, each recipe can be easily adapted with flavorful substitutions.
Start filling your kitchen, and your belly, with healthy, plant-based ingredients and start eating your way to a happier meat-free life.
About the Author
Erin Alderson is the recipe developer, photographer and voice behind the whole foods, vegetarian blog Naturally Ella. Erin started blogging on a whim in 2007 as a healthy baking blog but has since then grown into a thriving seasonal, whole foods resource site. She grew up in a traditional middle class family that had a diet largely subsistent on fast food. Five years ago Erin's father suffered a massive heart attack leaving Erin to question her own health and eating habits. Since then, she has ditched processed foods in lieu of a whole foods. Erin is a large proponent of local agriculture and seasonal eating which has become a large part of the Naturally Ella. Erin is also the author of The Homemade Flour Cookbook (Fair Winds Press). www.naturallyella.com
Praise For The Easy Vegetarian Kitchen: 50 Classic Recipes with Seasonal Variations for Hundreds of Fast, Delicious Plant-Based Meals…
â??Erin Alderson has left no stone unturnedâ?¿ great for non-vegetarians who like to include a â??vegetarian dayâ?? in their weekly menu planning.â??