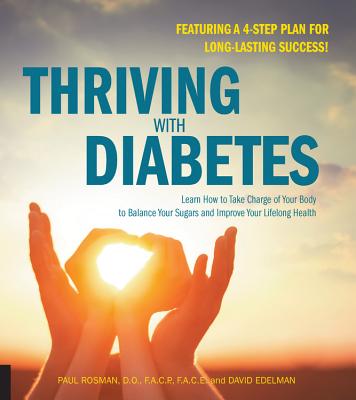 Thriving with Diabetes (Paperback)
Learn How to Take Charge of Your Body to Balance Your Sugars and Improve Your Lifelong Health - Featuring a 4-Step Plan for Long-Lasting Success!
Fair Winds Press, 9781592336777, 208pp.
Publication Date: August 15, 2015
* Individual store prices may vary.
Description
Learn to Actively Manage Your Diabetes for a Healthy and Happy Life
Thriving with Diabetes empowers you to take charge of your diabetes, so you don't just deal with your symptoms, but change the way you think to improve your health, happiness, and quality of life. Through a simple four-step process, you'll learn how to intuitively understand your blood sugars and what causes both good and bad numbers. This proactive approach results in the ability to manage diabetes personally, not just by a set of notes from the doctor.
Step 1: Lower the Highs
Step 2: Limit the Lows
Step 3: Use Your Best to Fix the Rest
Step 4: Play with Your Diabetes
Written by Dr. Paul Rosman and David Edelman, co-founder of Diabetes Daily, Thriving with Diabetes is not just about eating properly (although that's certainly part of it!), but also about managing the daily challenges of physical activity, stress, pain, sleep patterns, and other life events that have a major, but underappreciated, impact on blood sugar trends. You'll also pinpoint your favorite meals and activities and use them as multipliers of success--focusing on the positive rather than the negative. The result is immediate and satisfying improvements to total health, both physically and mentally!
"Thriving with Diabetes has the answers you need. This comprehensive and easy-to-read guide is a great resource for people with diabetes, their families, and their caregivers. Everything we know about diabetes, testing, and medications is changing, and this up-to-date guide tells you exactly what you need to know." - Neal Barnard, M.D., author of Dr. Neal Barnard's Program for Reversing Diabetes
"Rather than regurgitate the same old formulas and definitions, Thriving with Diabetes helps us navigate the challenges of living day-in and day-out with this relentless and unpredictable chronic condition. Dr. Rosman and David Edelman show us that surviving diabetes isn't good enough. Thriving is truly where it's at." - Gary Scheiner M.S., CDE, author of Think Like A Pancreas,and the 2014 American Association of Diabetes Educators' Diabetes Educator of the Year
"Tired of feeling confused and frustrated with your diabetes? Thriving with Diabetes demystifies why blood sugars change, and gives you the tools you need to help you manage them successfully." - William Polonsky, Ph.D., CDE, co-founder and president of the Behavioral Diabetes Institute
About the Author
Dr. Paul M. Rosman is a clinical endocrinologist committed to helping revolutionize the way diabetes is treated around the world. Trained as a Doctor of Osteopathic Medicine and a Board Certified Internist and Endocrinologist, he has worked with patients for over 25 years to help them live healthy, happy lives. Dr. Rosman has also taught at institutions including Ohio University and Northern Ohio Medical College, and has worked to help advance the field of diabetes in numerous leadership roles. He has chaired chapters of the American Diabetes Association and the American Association of Clinical Endocrinologists, and led the medical advisory board of the Ohio Diabetes Prevention and Control Program. He has also served as Senior Medical Advisor to Eli Lilly and Company, the pharmaceutical company that first developed insulin in 1921.David Edelman is Co-founder and President of Diabetes Daily, a leading online community for people touched by diabetes. After a loved one was diagnosed with type 1 diabetes, he was driven to create a place where people living with diabetes could connect and work together for a better future. David believes in the power of patient voices to transform not just individual lives, but the entire health system. Through his service to Diabetes Daily, the Board of the Diabetes Hands Foundation, and other organizations, he has worked to amplify the voices of those living with diabetes to expand access to health care and ensure everyone gets the support they need to succeed.
or
Not Currently Available for Direct Purchase