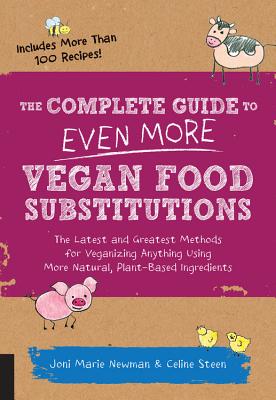 The Complete Guide to Even More Vegan Food Substitutions: The Latest and Greatest Methods for Veganizing Anything Using More Natural, Plant-Based Ingr (Paperback)
The Latest and Greatest Methods for Veganizing Anything Using More Natural, Plant-Based Ingr
Fair Winds Press (MA), 9781592336814, 256pp.
Publication Date: July 1, 2015
Description
Expert vegan author team Celine Steen and Joni Marie Newman are back to provide vegans with an extremely informative and resourceful guide that will increase readers' confidence in the kitchen and help them create fantastic vegan meals. The Complete Guide to Even More Vegan Food Substitutions focuses on the latest new ingredients and substitutions readers can use to create stellar, plant-based meals at home, from any recipe.
Did you know, for instance, that chia seeds can be used not only as an egg substitute and gelling agent, but in ice creams, baked goods, jams, and even cheeses? Or that coconut oil can easily be used to replace commercial vegan butters? How about making some decadent whipped cream from coconut cream? Or subbing savory jackfruit for shredded meat and French lentils for burgers?
Inside, readers will learn how to not only substitute for dairy, eggs, meat, seafood and more (using more natural and vegetable-centric ingredients), but also how to make their own all-natural versions of these foods. While some of the ingredients and techniques discussed in the original book bear repeating, The Complete Guide to Even More Vegan Food Substitutions stands rightly on its own two feet, no matter if you're a new vegan or an old pro. Transitioning to the vegan lifestyle has never been easier
About the Author
Celine Steen is the co-author of 500 Vegan Recipes, The Complete Guide to Vegan Food Substitutions, Hearty Vegan Meals, Vegan Sandwiches Save the Day!, Whole Grain Vegan Baking, The Great Vegan Protein Book, and the upcoming The Great Vegan Grains Book. She is the founder of the award-winning blog Have Cake, Will Travel (www.havecakewilltravel.com).Joni Marie Newman is the author of _
Advertisement