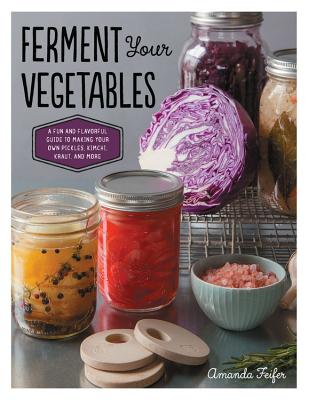 Ferment Your Vegetables (Hardcover)
A Fun and Flavorful Guide to Making Your Own Pickles, Kimchi, Kraut, and More
Fair Winds Press, 9781592336821, 208pp.
Publication Date: October 15, 2015
* Individual store prices may vary.
Description
Ferment Your Vegetables for Flavor, Health, and Fun!
Fermented vegetables are a great, healthy addition to anyone's diet. Abundant in probiotics, enzymes, vitamins, minerals, and more, research continues to reveal the many ways that these foods positively contribute to our well-being. From kimchi and sauerkraut to pickles and kvass, fermented foods have been part of the human diet for millennia--and are rightfully reclaiming their place at our daily table.
The idea of fermenting vegetables at home can be intimidating for those who have never tried it before. The truth is, it's quite easy once you learn just a few basic concepts. In Ferment Your Vegetables, author Amanda Feifer, fermentation expert and founder of phickle.com, serves as your guide, showing you, step by step, how you can create traditional, delicious fermented food at home, using only simple ingredients and a little time. No fancy starters or elaborate equipment required.
Using only veggies, a few spices, and a glass jar, here's just a small sampling of recipes you could start making today:
-Zucchini Bread Pickles
-Curried Cauliflower Pickles
-Pint of Pickled Peppers
-Simplest Sauerkraut
-Ginger Beet Kraut
-Green Bean Kimchi
-Wild Fermented Tomato Sauce
-Bullseye Beet Kvass
Ferment Your Vegetables will make beginners wonder why they didn't start sooner, and give veteran fermenters loads of new ideas and techniques to try at home. All aboard the probiotic train!
About the Author
Amanda Feifer writes about food fermentation of all kinds on her blog, phickle.com, and is the author of the cookbook Ferment Your Vegetables. When she's not concocting crazy vats of bubbly things in the kitchen or ranting against the use of anti-bacterial soaps, she's doing what she loves most: teaching people to make their own fermented foods, from kimchi and kefir to kombucha and koji. She was selected to be a judge for the 2016 Edible Communities EDDY Awards.
Praise For Ferment Your Vegetables: A Fun and Flavorful Guide to Making Your Own Pickles, Kimchi, Kraut, and More…
"This book is great. It is very accessible and will gently guide nervous first-time fermenters through the process. Yet it also delves deep, exploring different types of vessels, different vegetables and styles, and will inspire experienced fermenters with new ideas." - Sandor Ellix Katz, author of The Art of Fermentation and Wild Fermentation
"With Ferment Your Vegetables, Amanda Feifer demystifies the trickier aspects of fermenting at home and gives us all the tools we need to confidently go forth with our own fermentation experiments. Her small-batch pickling recipes are perfect for using up those stray bits left in the fridge or an overly-abundant CSA share, and they show us that pickling can be a part of our everyday cooking. - Emma Christensen, recipe editor for The Kitchn and author of True Brews and Brew Better Beer
"As a friend and un-official Microbial Consultantto the restaurant, Amanda has been a vital part of the growth and evolution of High Street on Market. Her constant enthusiasm and thoughtfulness has inspired our team to become more confident and understanding of fermentation. Now that same enthusiasm and thoughtfulness is available to everyone in Ferment Your Vegetables. Microbes have never had a better ambassador. - Eli Kulp, Executive Chef, High Street on Market, Fork Restaurant, a.kitchen and a.bar
"This book is yours if you're a well-seasoned pickle pro or a kitchen novice ready to dip a toe into the briny waters of fermentation at home. With clear, concise information on gear, technique, and a healthy dose of geeky science, your vegetables will be in a fizzy tizzy in no time! Amanda Feifer brings new ideas to ignite your pickle passion: fermented nuts? sauerkraut eggs? bubbly corn on the cob? Yes, please! - Karen Solomon, author of Asian Pickles and Jam It, Pickle It, Cure It
"Ferment Your Vegetables offers clear, concise instructions for making your own pickles, sauerkraut, kimchi, and more. The book's small-batch approach makes the practice of vegetable preservation accessible to everyone, with Feifer's wildly creative, playful recipes putting the fun in fermentation!" - Leda Scheintaub, author of Cultured Foods for Your Kitchen: 100 Recipes Featuring the Bold Flavors of Fermentation
"Devour every page of Ferment Your Vegetables and you will be rewarded with ideas and recipes to keep you fermenting for years. Everything you need to know is covered even if your microbial adventures have only just begun. I have been fermenting for years and there are still plenty of recipes in this book that I'm excited to taste." - Branden Byers, creator of FermUp and author of The Everyday Fermentation Handbook
"Full of enticing photos and solid techniques, Ferment Your Vegetables removes any fear about fermentation and replaces it with fun! Brimming with practical advice and creative flavor combinations, Feifer's book is a must-read for anyone who enjoys fermented foods." - Allyson Kramer, author of 'Sweet Eats for All'
"With Ferment Your Vegetables, Amanda Feifer has made a fresh and worthy addition to the nukadoko of fermented literature. Her theory and practice are up to the minute, her writing is consistently accessible and clear, and her recipes are many, varied, imaginative, and innovative. Put on your kimchi gloves and dive in!" - Alex Lewin, author of Quarry Books' Real Food Fermentation
"There have been a lot of cookbooks on fermentation and pickling that have come out in the past few years, but this one feels like it adds something new to the conversation - new vegetables I've never thought about pickling, new combinations of spices and seasonings I've never thought to try, and new ideas for using these fermented veggies every day." - TheKitchn.com