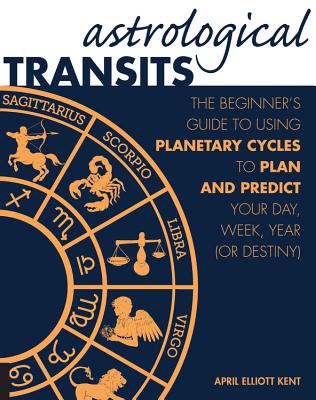 Astrological Transits (Paperback)
The Beginner's Guide to Using Planetary Cycles to Plan and Predict Your Day, Week, Year (or Destiny)
Fair Winds Press, 9781592336838, 240pp.
Publication Date: August 15, 2015
Other Editions of This Title:
Hardcover (6/2/2020)
* Individual store prices may vary.
Description
Your birth chart is a snapshot of the sky taken at the moment and place of your birth, one that reflects your character, personality, strengths, and challenges. But the moment after that picture was taken, the planets moved on--some quickly, some very slowly. Astrologers call the moving planets "transits," and by comparing their movements to your birth chart you can gain a complete view of how best to prepare for challenges, meet opportunities, and stay grounded in a constantly-changing world.
In Astrological Transits, astrologer April Elliott Kent will guide you through the best ways to make the most of your birth chart. Learn how to make the most of good transits and harness and transform the energy of "bad" ones. You'll also understand planetary cycles and anticipate your own transits. Finally, you'll know how to read planetary return charts, work with planetary retrogrades, and use eclipses to recognize major patterns and turning points in your life.
If you are comfortable reading a birth chart, you are ready to move your chart into the future using transits. Instructions, tables, and worksheets will make tracking your transit cycles simple and exciting!
About the Author
April Elliott Kent is the author of The Essential Guide to Practical Astrology (Alpha/Penguin, 2011) and Star Guide to Weddings (Llewellyn, 2008). A professional astrologer since 1990, April has written for The Mountain Astrologer and Dell Horoscope magazines and contributed to Llewellyn's annual Moon Sign and Sun Sign books. She has won praise for her warm writing style and ability to make complex astrological concepts accessible.
April's website, BigSkyAstrology.com is extremely popular, as are her lectures for astrology groups. She has served on the faculty of the 2012 United Astrological Conference. She lives in San Diego, California, with her husband and two surly cats.
Praise For Astrological Transits: The Beginner's Guide to Using Planetary Cycles to Plan and Predict Your Day, Week, Year (or Destiny)…
"April Elliott Kent is one of only a few authors who make the ancient art of astrology fun and easy to understand. Her most recent book, Astrological Transits, will tremendously help the new astrologer make sense of the often-complicated study of planetary cycles. Ms. Kent's writing is concise with a heavy dose of humor, which makes it an easy read. Well done!" - Susie Cox, astrologer and author
"The best astrology cookbooks are those that get our own imaginations cooking. Astrological Transits does this so well, it ought to be on every student's shelf. Kent makes the intricacies of reading transits accessible and fun. Laced with the reassuring common sense of her years of actual practice, it's also thorough enough to teach you everything you need to know about interpreting past, current, and future skies. Yet the real delight is the author's witty and insightful take on the factors. Even after twenty years of being an astrologer, I know there will be many future moments when I'll look at a chart, my mind will go blank, and I'll genuinely wonder, "What does Saturn transiting the 4th house mean?" That's when I'll jump for my copy of Astrological Transits." - Dana Gerhardt, astrologer
"Hands down, this is the best book I've read about planetary cycles. In Astrological Transits, April Elliott Kent explains in an engaging, insightful, and user-friendly manner how the movements of the planets through the heavens stimulate changes in our lives. Furthermore, she shows you how to predict the types of changes you might experience, when to expect them, and how to make the most of them.
You don't have to be a savvy astrologer to figure this out--Kent provides everything you need to decipher your own life cycles and the opportunities they present. Lots of charts, graphs, worksheets, and other visuals high-concept the key points to help you "get it" quickly. Examples of how transits have affected real people illuminate the importance of these powerful celestial periods. If you've ever wondered why your life goes through ups and downs, or you want to peek into the future to see what it holds for you, read this book." - Skye Alexander, author of Planets in Signs and Magickal Astrology