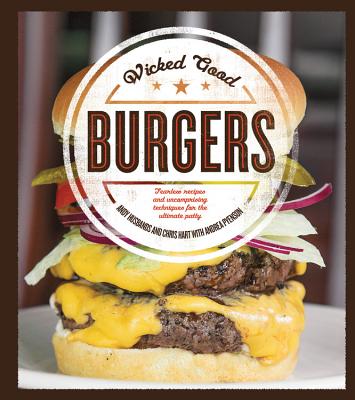 Wicked Good Burgers (Paperback)
Fearless Recipes and Uncompromising Techniques for the Ultimate Patty
Fair Winds Press, 9781592336852, 208pp.
Publication Date: April 15, 2015
* Individual store prices may vary.
Description
Wicked Good Burgers ain't your daddy's patty on a bun. The upstart Yankee team that revolutionized barbecue with their upset win at the Jack Daniel's World Championship Invitational turns their talents to burgers.

Wicked Good Burgers fearlessly incorporates new techniques, inspirations, and ingredients to take the burger to the next level - whether it's the Meatloaf Burger on Pretzel Bread with Cabernet Mustard or the Island Creek Burger with Oysters and homemade cocktail sauce.

You'll learn the art and science of freshly grinding meats - from beef to lamb to goat - for the ultimate juicy burger as well as cooking methods such as smoking, grilling, griddling, and sous vide that impart distinctive flavor.
About the Author
Andy Husbands is an award-winning pitmaster who began developing his own unique style of cooking upon opening Boston's Tremont 647 in 1996 and later, Sister Sorel. His latest culinary venture, The Smoke Shop, culminates Husbands' continued success and pays homage to his extensive background in the competitive barbecue circuit. His honest, approachable fare makes Smoke Shop the "Best Barbecue Restaurant" according to Boston Magazine, and the restaurant has been praised in The Boston Globe, Wine Spectator, Star Chefs, and more. 

After nearly three decades in the restaurant industry, Husbands serves as one of Boston's most celebrated culinary leaders and foremost authority on regional Barbecue and live-fire cooking. He competed on the sixth season of FOX Television Network's fiery Hell's Kitchen and is internationally-recognized for his BBQ team, IQUE BBQ, who became the first New England team to win the World Champions of BBQ title in 2009 at the Jack Daniels World Championship in Tennessee. Husbands is a large contributor to Share Our Strength as well as an active board member of the Massachusetts Restaurant Association, who acknowledged him as the 2014 Chef of the Year and a Rodman Celebration Restaurant Chair. He has also co-authored several cookbooks, including Pitmaster, Wicked Good BBQ, Wicked Good Burgers, Grill to Perfection,and The Fearless Chef.
Chris Hart, winner of the Jack Daniel Invitational World Championship in 2009, has dominated the competition BBQ circuit for the past 10 years with his team, IQUE. The team was the first group of Northerners in barbecue history to win a World Championship. Chris spends his days developing software, but his passion for cooking barbecue has him following the competition BBQ trail on weekends, pitting his talents against the best pitmasters in the U.S. Chris has cooked multiple barbecue tasting dinners at the James Beard House in NYC. He has appeared on the TV show BBQ Pitmasters, and is a Food Network Chopped Champion. He is coauthor of Wicked Good Barbecue, Wicked Good Burgers, and Grill to Perfection.
Andrea Pyenson has been writing about food for more than a decade and enjoying it for a lot longer than that. Her writing about food and travel has appeared in The Boston Globe, edible Boston, edible Cape Cod, msn.com, oneforthetable.com, The Washington Post, and Fine Cooking, among others. Pyenson was associate editor of The Boston Globe Illustrated New England Seafood Cookbook and assistant editor of 52 Weeks Cheap Eats: Dining Deals in Greater Boston.