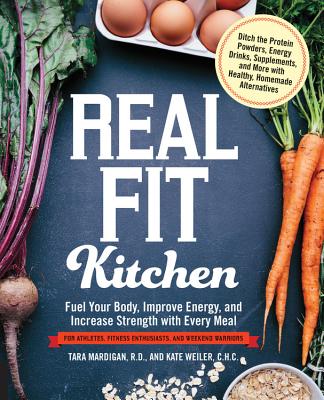 Real Fit Kitchen (Paperback)
Fuel Your Body, Improve Energy, and Increase Strength with Every Meal
Fair Winds Press, 9781592336906, 176pp.
Publication Date: October 1, 2015
* Individual store prices may vary.
Description
Upgrade your performance and diet. Get real and break free from the packaged bars and powders.
Admit it, your idea of sports nutrition needs an upgrade. Are you still reaching for low-fat cheese sticks and peanut butter bagels for pre-event meals? Let's get real and break free from the packaged bars and powders.
Active people, fitness lovers and athletes need practical guidance and proper knowledge about nutrition. Real Fit Kitchen is just what you're craving.
Nutrition experts Tara Mardigan and Kate Weiler prove that the foods, supplements and beverages, that many think are aiding performance, are actually hindering and can be easily replaced with healthy, real, clean food. For example:
- Instead of consuming chemical-laden and performance-hindering additives in packaged recovery drinks, make your own performance-boosting chocolate protein recovery drink.
- Replace liver-damaging pain-relief medications that dehydrate and disrupt electrolyte absorption, try a tart cherry juice smoothie.
- Substitute peanut butter laden with inflammatory trans fat and added sugar for muscle-rebuilding pecan cashew maca butter.
More nutritious than store bought products, Real Fit Kitchen provides 100 healthy meals, snacks, smoothies, and more, including new ingredients (like performance-enhancing raw cacao, turmeric, and chlorella) to upgrade anyone's diet. Learn to make more efficient, cost-effective meals that your whole family will eat. Enjoy natural food, and replace sports nutrition unhealthy products that do not properly sustain an active lifestyle with delicious and easy recipes that the whole family will love.
"Finally--a cookbook that combines common sense, nutrition science, and a passion for delicious food! Kate and Tara's recipes help us eat for an active, healthy, balanced life, with an emphasis on real, plant-based foods rather than highly processed bars and powders. I recommend this book to anyone looking for inspiration to create delicious, satisfying meals. I wish all of my patients would take this book to heart--the world would be a happier, healthier place!" - Dara Lee Lewis, M.D., FACC, instructor, Harvard Medical School and cardiologist, Lown Cardiovascular Center
"Tara and Kate are one of the greatest teams nutrition has ever seen. Their blockbuster playbook of recipes and eat-to-win advice is a must-read for anyone who wants to take care of their body. I learned a new fact on every page and will eat much better from now on because of it." - Jon Meterparel, play-by-play voice of Boston College Football and Basketball on the IMG Sports Network and play-by-play talent, ONE World Sports TV Network
About the Author
Tara Mardigan, M.S., M.P.H., R.D. is a NYC-based nutritionist also known as The Plate Coach. She is the Director of Nutrition for Fruit Street Health, a telehealth software company. She is the former team nutritionist for the World Champion Boston Red Sox and is credited for helping change the culture of the Red Sox to use healthy food (not supplements) as an edge to athletic performance, injury prevention and ongoing success. She is an expert at helping athletes and clients with sustainable lifestyle changes.
Kate Weiler, MS, CHC is a sports nutritionist who works with athletes to optimize athletic performance through nutrition. She has combined her strongly holistic mentality with the reality of what actually works and what is convenient for a time-pressed, busy athlete. Kate is also the co-founder of DRINKmaple which is launching maple., pure maple water in May. She was featured on the front page of the Business section in The Boston Globe this past April.
Kate is an elite triathlete who has completed 5 full distance Ironman races, a countless number of triathlons, and more than 10 marathons. She is a multiple time qualifier and finisher of the Boston Marathon and she is qualifier and finisher of the 2013 Ironman World Championships in Kona, Hawaii.
Kate is the Boston Triathlon and Active Ethos Nutritionist. She has also created recipes for Lululemon Athletica and Fluide Bar a Jus- Juice and Smoothie bar in Mt. Tremblant, Canada. Kate has a Master of Science Degree in Nutrition from Northeastern University and Certified Holistic Health Coach from the Institute of Integrative Nutrition in New York. She has a Certificate of Integrative Nutrition from Purchase College, SUNY, and is certified by the American Association of Drugless Practitioners. She also has Bachelor of Arts from Colby College.
When she is not swimming, biking or running, she can be found creating concoctions in what is known as the KKW test kitchen in the social media world (@kkweiler). She blogs about food and racing at www.ironnourishment.blogspot.com.
Praise For Real Fit Kitchen: Fuel Your Body, Improve Energy, and Increase Strength with Every Meal…
"Real Fit Kitchen empowers the time-starved athlete to take control of their nutritional choices on the often-challenging and confusing road to wellness and high performance. It's like having your own personal sports nutritionists on call, whether you're a beginner or an elite athlete. This book provides a wealth of practical insight on what it takes to achieve and maintain a healthy lifestyle with easy-to-prepare, convenient recipes and accessible ingredients that do not disappoint on taste, bold flavors, or personality." - Larry Anderson, head men's basketball coach, Massachusetts Institute of Technology
"I met Tara only months after I was diagnosed with celiac disease. At the time, I was competing in NCAA football at Harvard. Maintaining optimum nutrition in light of my newly diagnosed dietary restrictions was imperative. Today, as a professional athlete, I still reference several of the various nutritional concepts that Tara educated me in." - Marco Iannuzzi, professional athlete (Grey Cup champion wide receiver for the BC Lions of the Canadian Football League), investment advisor, speaker, philanthropist
"As a professional athlete, I have to make sure that I am fueling my body with the right foods. The recipes found in Real Fit Kitchen are quick and easy for someone who is always on the go. If you're looking to increase your energy and improve your performance, this is the book for you." - Keith Wright, professional basketball player, former Harvard Crimson basketball player
"Real Fit Kitchen is a real find. No pills, powders, or potions. Just delicious recipes to help keep you fit for life." - Ron Lawner, former creative director and chairman of Arnold Worldwide