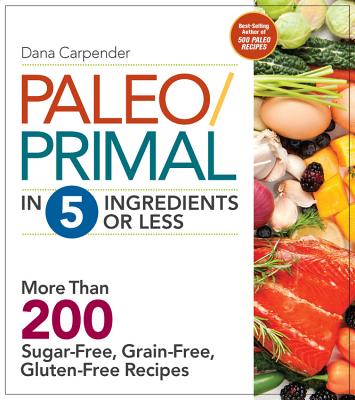 Paleo/Primal in 5 Ingredients or Less
More Than 200 Sugar-Free, Grain-Free, Gluten-Free Recipe
Paperback

* Individual store prices may vary.
Description
Go Paleo with 5 ingredients or less!
The Paleo or Primal diet--known in some circles as the "Caveman Diet"--is an eating plan based on evolutionary biology and backed up by medical research. Unlike other diets which can incorporate fake, processed foods and artificial sweeteners, the Paleo diet is based on what our ancestors ate: meats and fish, nuts and seeds, and naturally grown fruits and vegetables.
While some cookbooks embrace the hunter-gatherer lifestyle, the modern Paleolithic family needs healthy and delicious recipes without all the actual hunting and gathering. Bestselling author Dana Carpender helps you remove the processed convenience foods like frozen entrees and takeout, but still make healthy, fast, easy meals that everyone loves.Enjoy a whole chapter on make-ahead foods that can be quickly put together and pulled out and served in no time when you come home from work. There's also a convenient chapter of slow cooker recipes that require a bare minimum of precious morning minutes and are ready to serve when you get home--even if your family gets home in shifts.
Paleo/Primal in 5 Ingredients or Less gives the modern caveman 200 recipes that can be made from 5 or fewer ingredients. All recipes are also sugar-free, grain-free, and gluten-free. This is just what today's caveman needs to cook fast and healthy meals.
"As usual, Dana Carpenter has produced another winner! She's an established master when it comes to making low-carb programs easy, fun, and delicious. This fresh take on Paleo/primal belongs on every kitchen shelf!" - Jonny Bowden, Ph.D., C.N.S., author of The Great Cholesterol Myth and Living Low Carb
Fair Winds Press, 9781592336951, 192pp.
Publication Date: November 1, 2015
About the Author
Dana Carpender (Bloomington, Indiana) is a pioneer of the low-carb movement and best-selling author of over 14 cookbooks, including The New 500 Low-Carb Recipes,1001 Low-Carb Recipes, 500 Paleo Recipes, 15-Minute Low-Carb Recipes, The Low-Carb Diabetes Solution Cookbook, 200 Low-Carb, High-Fat Recipes, The Low-Carb Diabetes Solution, The Insulin Resistance Solution, 500 Ketogenic Recipes, and many more. To date, her books have sold over a million copies worldwide. She writes about low-carb cooking and nutrition on her Facebook page, Dana Carpender's Hold the Toast Press. 
or
Not Currently Available for Direct Purchase