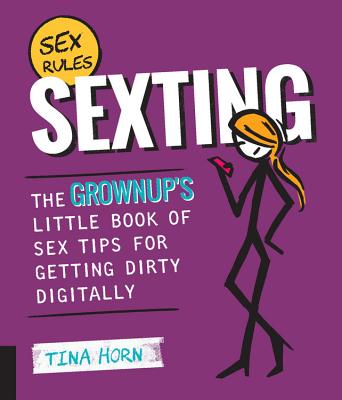 Sexting (Hardcover)
The Grownup's Little Book of Sex Tips for Getting Dirty Digitally
Quiver Books, 9781592337057, 128pp.
Publication Date: January 1, 2016
* Individual store prices may vary.
Description
Times have changed, and so have the rules. Modern grownups need a sex-positive guide to communicating digitally with their lover, and sex guru Tina Horn is here to help you with you swipe right, sext like a pro, and take superb selfies.
How frequently should you text a friend with benefits? When is it okay to send someone a nude pic? Modern sex is full of confusing questions that Dear Abby never had to deal with. But don't lose hope if you're feeling confused about erotic etiquette: the Sex Rules series is here to answer all the little questions about how to handle sexual situations--even the ones you didn't know you had.
Sexting covers all types of digital flirting. Sexy texts require timing and style, while erotic pictures and steamy selfies may reqiure caution about the cloud. White-hot videos can take you from FaceTime to Oh-FaceTime if you know what you're doing.
Learn the dos and don's for when, how, and what to include in a great sexting session and turn your phone into a hot sexting machine!
Endorsements:
"Tina Horn transmutes experiences most people have never had into tasty brain candy and challenging, informative walks on the wild side. I'd trust this writer to take me pretty much anywhere." - Carol Queen, PhD, Author, Real Live Nude Girl and The Leather Daddy and the Femme
"Tina Horn is a compelling public speaker and ingenious educator. Her writing on BDSM and sex worker rights explores some of the most important social issues of our time. In her writing and on her podcast, she manages to make complex issues accessible without dumbing anything down. Having worked with her at several sexuality conferences, I can attest that she is as professional as she is original. " - Tristan Taormino, author of The Ultimate Guide to Anal Sex for Womenand Opening Up, host of Sex Out Loud on The VoiceAmerica Talk Radio Network, founder and producer of The Feminist Porn Conference
"Tina Horn reverently unearths the details of the lives of the sex workers she profiles, revealing fetishes, passions, kinks and quirks from an insider perspective. She showcases the artistry inherent in their jobs, lives and sexuality, and by doing so, opens up these underground worlds to curious readers." - Rachel Kramer Bussel, author of Sex & Cupcakes, editor of The Big Book of Orgasms
About the Author
Tina Horn is a writer, teacher, and media-maker. She produces and hosts the sexuality podcast Why Are People Into That?!. Her first book, Love Not Given Lightly, is a collection of nonfiction stories about sex workers; she has also been published in Vice, The Toast, The Rumpus, Nerve, Girl Sex 101, Coming Out Like a Porn Star, Unshaven, and Best Sex Writing 2015.
Tina's workshops on dirty talk, self care, and spanking have been featured at Good Vibrations, Kink.com, Lesbian Sex Mafia, International Ms Leather, the New School, and the Feminist Porn Conference. She is a LAMBDA Literary Fellow, the recipient of two Feminist Porn Awards, and holds an MFA in Creative Nonfiction Writing from Sarah Lawrence. Born in Northern California, Tina now lives in Brooklyn. @TinaHornsAss / TinaHorn.net
Praise For Sexting: The Grownup's Little Book of Sex Tips for Getting Dirty Digitally…
"This guide is from one of the dirtiest minds (and mouths) in the business! Let Tina Horn be your guilt-free guide, and let her shamelessly show your fingers and selfies how to do the dirty talking!" - Reid Mihalko of ReidAboutSex.com
"Tina Horn is the guide you want on your digital sexual journey. She's the voice you want in your ear when you compose that next seductive message, and the counsel you want the next time you snap that alluring selfie. Not only does she give you the tools, she boosts your confidence in the process. Read this book! Keep it in your pocket. You won't regret it." - Tristan Taormino, author of The Secrets of Great G-Spot Orgasms and Female Ejaculation
"Tina Horn is exactly the babe to take sex advice of any kind from, and as a forever punk who has sworn her allegiance to filth and analog, her perspective on the quest for online sex is invaluable. There is no better person on the planet to write the book on being ethically slutty in this brave new world of online dating and technology driven romance and communication. From emojis and a defense of selfies to pointers on sexy grammar, Horn positions herself to be the Emily Post for a generation of online sluts." - Siouxsie Q, host of The Whorecast, SF Weekly columnist