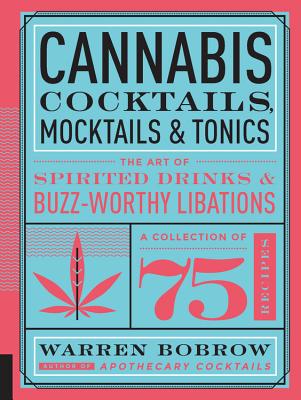 Cannabis Cocktails, Mocktails & Tonics
The Art of Spirited Drinks and Buzz-Worthy Libations
Hardcover

* Individual store prices may vary.
Description
Create your own cannabis infused cocktails!
Combining cannabis and cocktails is a hot new trend, and Cannabis Cocktails, Mocktails & Tonics shows you how. Featuring a collection of 75 recipes of cannabis influenced cocktails and drinks; The Cocktail Whisperer Warren Bobrow will show you the essential instructions for de-carbing cannabis to release its full psychoactive effect. Learn the history of cannabis as a social drug and its growing acceptance to becoming a medicinal. Look beyond cocktails and create successful tonics, syrups, shrubs, bitters, compound butter and exotic infused oil to use in any drink. Start your day with coffee, tea, and milk-based cannabis beverages for healing and relaxation. Get your afternoon pick-me-up with gut healing shrubs and mood enhancing syrups. Make cooling lemonades and sparking herbal infusions to soothe the fevered brow. Then, have an after dinner herbal-based cannabis drink for relaxation at the end of a good meal. The options are endless with Cannabis Cocktails, Mocktails & Tonics!
Praise For Cannabis Cocktails, Mocktails & Tonics: The Art of Spirited Drinks and Buzz-Worthy Libations…
"This is a really fun book for anyone who loves drinks and cannabis."
—
Heavy.com
"Noted mixologist and marijuana enthusiast Warren Bobrow has combined his two passions into one fantastic book that's sure to be a fixture on the shelves of hedonistic cannaphiles everywhere."
—
HighTimes.com
Fair Winds Press, 9781592337347, 160pp.
Publication Date: June 1, 2016
About the Author
Warren Bobrow is the creator of the popular blog cocktailwhisperer.com and the author of Apothecary Cocktails, Whiskey Cocktails and Bitters and Shrub Syrup Cocktails.
Warren has taught classes on spirits and cocktails all over the world, including an advanced class on rum at the Moscow Bar Show. He's taught the fine art of social media and food writing at the New School in New York as well as classes on creative cocktails and mocktails at Stonewall Kitchen in Maine.
Warren has written hundreds of articles on cocktails and food for Chilled Magazine, Saveur, Whole Foods/Dark Rye, Total Food Service, Eater, Voda, Serious Eats, Foodista, Distiller, Sip and Beverage Media as well as many other international outlets. He has also written for the Oxford Encyclopedia: Gotham issue and the Sage Encyclopedia of Food Issues. He has forthcoming research being published in the History of Food and Drink of New Jersey by Wiley Publishing.
Warren was a 2010 Ministry of Rum judge, was selected to be a judge for the 2016 Edible Communities EDDY Awards, and was the only American food journalist asked to participate in Fete de la Gastronomie, a nationwide celebration of French cuisine in Burgundy.