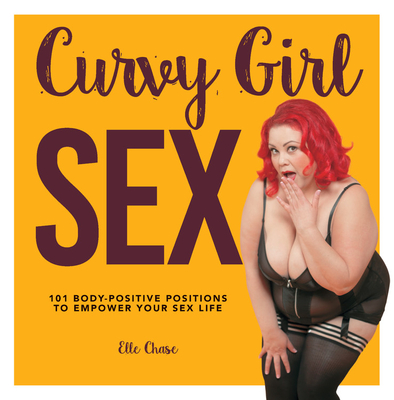 Curvy Girl Sex
101 Body-Positive Positions to Empower Your Sex Life
Paperback

* Individual store prices may vary.
Description
Curvy Girl Sex provides tried and tested methods, positions, and sex hacks for plus-sized lovers of all types, and does it all in an empowering, body-positive light.

Who says you have to be a size 6 to have the best sex of your life? Curvy Girl Sex is here to show you that regardless of size, shape, or flexibility you CAN get creative and have satisfying, sultry, sensual sex!

Sex educator Elle Chase covers sex positions from basic to advanced in this new guide for plus-sized lovers. Elle covers specific challenges faced as plus-sized people, and provides precise, body positive tips, tricks and techniques that cater to your big, beautiful body.

Curvy Girl Sex also features sections on which sex toys on the market that are best for a woman of size, the one unexpected item in just about every home that's just waiting to be used to enhance sex sessions, tried and tested methods and positions to make curvy girls quiver, and loads of "sex hacks".
Praise For Curvy Girl Sex: 101 Body-Positive Positions to Empower Your Sex Life…
"Curvy Girl Sex is something I wish we all had years ago, but I'm still beyond ecstatic to have and utilize it now! THANK YOU, ELLE!"
—Jes Baker, body positivity activist, TheMilitantBaker.com
 
"Sometimes life in a body that isn't the kind our culture celebrates can get a person down and leave us feeling like our options—especially in the bedroom—are limited. This adorable, playful, upbeat encyclopedia of ways to get your sexy times on is a perfect antidote."
—Hanne Blank, author of Big Big Love: A Sex and Relationships Guide for People of Size (and Those Who Love Them)
 
 "Curvy Girl Sex is a game changer. People of all sizes will benefit from Elle Chase's smart, inclusive, shame-free advice on everything from plus-size sex positions to the best bedroom tools. Her real-world approach to embracing pleasure at any size is what we've all been waiting for!"
—Tristan Taormino, best-selling sex author, www.TristanTaormino.com
 
"Thank you, Elle, for writing this joyous, funny and very educational guide to doing it and doing it right. Curvy Girl Sex had me laughing out loud dreaming about executing positions I'd never heard of. I loved this book and feel like it was written just for me. You will, too. Now let's get to bangin'!"
—Bridget Everett, singer, actor, writer, comedian
 
"Curvy Girl Sex is a must read! From positions and dirty talk to solo-sex and body image, Elle offers practical advice you can use tonight—in and out of the bedroom. This will be my new go-to guide for sexual positions for every body."
—Jessica O'Reilly, Ph.D., best-selling sex author, www.SexWithDrJess.com
 
"Elle Chase sizzles with big, beautiful, brave energy as a sex educator and author. Curvy Girl Sex is filled with creative positions parallel to the Kama Sutra."
—Dr. Ava Cadell, author of Idiot's Guides: Kama Sutra and founder of Loveology University
 
"Elle Chase is her own best advertisement. Funny, wise, kind, compassionate, she is an excellent counselor and coach. She's walked the walk and now she wants to share what she's learned with clients who are ready to be happy, whole and healthy. Highly recommended!"
—Nina Hartley, author of Nina Hartley's Guide to Total Sex
 
"Elle Chase has risen up to become one of the most proficient sex educators today. Online, she has helped pioneer conversation around smut, body image, and sex after 40. You won't find a more honest and authentic educator, one who can speak from the heart and the brain."
—Jamye Waxman, author of Getting Off: A Woman's Guide to Masturbation
 
"Elle is a remarkable blend of warm openheartedness and sexy braininess. Provocative and judgment free, she creates a safe space for people to explore their own minds and bodies without shame and with a lot of love, knowledge, and compassion. She is a true gift to the sex-positive sex-education world."
—Melissa White, CEO, www.LuckyBloke.com
 
"Elle Chase writes and teaches about sex in a way that's as fun and humorous as it is inclusive and compassionate. She is knowledgeable, engaging and, above all, passionate about teaching sexuality. I highly recommend her!"
—Tara Struyk, editor, www.kinkly.com
 
"Elle Chase is an incredibly dedicated and gifted presenter, writer, and educator. Believing that everyone is entitled to a safe, hot, healthy sex life she has made it her life's work to provide workshops and lectures where sex positive adults can exchange ideas openly, free of judgment."
—Jaeleen Bennis, creator and founder of Bondassage
 
"Elle is one of the most delightful, interesting people I know. She's intelligent, witty, and lusty. Generous with both her time and knowledge, I can think of no other sex positive educator I want to simultaneously seek advice from and share a cup of coffee with. Elle is often Shevibe.com's go-to expert for brainy sex advice and articles; she never fails to deliver."
-—Sandra Bruce, partner, www.SheVibe.com
 
"With candor, wit, and gentleness, Elle Chase begins with the assumption that sexuality is not exclusive to cover models—which is great, because very few of us are. Then, pairing data with real warmth, Chase works with clients to ask questions, solve riddles, and find comfort in their own skin in a supportive and fun environment."
—Gram Ponante, journalist, author, and writer, www.GramPonante.com
 
"Elle Chase is our go-to expert for articles about sex topics that really matter to our readers. Her deep knowledge base combined with a no-nonsense, humorous style make her approachable and completely reliable."
—Paula Tiberius, editor, www.sexpert.com

"Elle Chase approaches sex from all directions with candor, vulnerability, and above all else, a fantastic smile on her face. Moving through her site and her work is a pleasure and an education all in one experience."
—Jon Pressick, www.SexInWords.ca
 
Fair Winds Press, 9781592337408, 192pp.
Publication Date: February 1, 2017
About the Author
Sex educator, writer and sex & intimacy coach Elle Chase is a graduate of the prestigious San Francisco Sex Information Sex Educator Training Program and a member of the American College of Sexologists. She is best known as the creator, curator, and editor of two award-winning and highly trafficked sexuality websites: www.LadyCheeky.com (NSFW), and its companion editorial site www.SmutForSmarties.com. LadyCheeky.com was listed number one in Cosmopolitan's "Best Porn Sites for Women," and also named to Salon.com's list "The Best of Tumblr Porn." SmutForSmarties.com has been LA Weekly's choice as "Best Sex Blog" since 2013. Elle also serves as the Director of Education and Lead Sex Educator at the Los Angeles Academy of Sex Education, where she offers master classes on sexuality, sexual health, and sexual lifestyles, taught by leading sex educators in their field and serving the community at large.