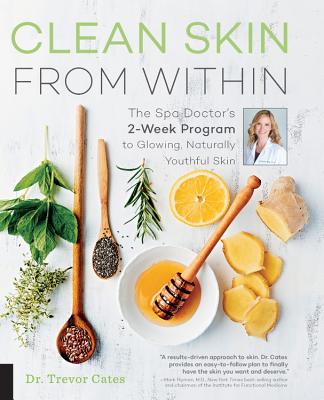 Clean Skin from Within (Paperback)
The Spa Doctor's Two-Week Program to Glowing, Naturally Youthful Skin
Fair Winds Press, 9781592337439, 208pp.
Publication Date: March 15, 2017
* Individual store prices may vary.
Description
In Clean Skin from Within, Dr. Trevor Cates presents her detailed, customizable 2-week program to transform your skin from the inside out, including recipes for skin-perfecting food and drinks and DIY skin care products.

If you have a common skin condition, such as acne, rosacea, eczema, or psoriasis, or are just looking to give your skin a boost, you can skip the trip to your dermatologist. Dr. Cates shows you how to achieve clear, glowing skin without the harsh medications by adopting a cleaner, healthier lifestyle. By addressing the root causes of your skin troubles, she will help you create a holistic plan for clear, vibrant skin in four simple steps:
Clean Plate (diet)
Clean Slate (toxin takeaway)
Clean Body (detox support)
Clean Mind (emotional cleansing)
Dr. Cates helps you first to identify your skin type to determine what natural ingredients will best nourish your skin. Featuring recipes for collagen-boosting bone broths, antioxidant-rich salads, and delicious smoothies, you'll learn how to whip up fresh, wholesome dishes that promote healthy skin. This comprehensive guide also includes instructions for creating homemade skincare products such as cleansers, toners, exfoliants, masks, and more.

At the end of two weeks, your skin will be polished, perfect, and ready to glow—and so will you!
About the Author
Dr. Trevor Cates, also known as "The Spa Dr.," is an internationally recognized naturopathic doctor and the first woman licensed as a naturopathic doctor in the state of California. Former Governor Arnold Schwarzenegger twice appointed Dr. Cates to California's Bureau of Naturopathic Medicine Advisory Council. She has worked with world-renowned spas and currently sees patients in her private practice in Park City, Utah, with a focus on helping individuals achieve graceful aging and glowing skin.
 
Dr. Cates has been featured on The Doctors, Extra, First for Women, and on the mindbodygreen website. She hosts THE SPA DR. podcast, where she shares her belief that the key to healthy skin is inner and outer nourishment with nontoxic ingredients.
 
Dr. Cates's The Spa Dr. skin care and supplement lines are formulated with natural and organic ingredients designed to help those struggling with body acceptance reach the clean and natural path to confidence and beautiful skin. For more information, visit TheSpaDr.com.
Praise For Clean Skin from Within: The Spa Doctor's Two-Week Program to Glowing, Naturally Youthful Skin…
"A groundbreaking approach to one of the most important organs of your body—your skin."
- Dr. Michael Breus, Ph.D., The Sleep Doctor and author of The Power of When
"A guide to better skin and a better you. Dr. Cates teaches readers that diet does matter and that healthy skin comes from within."
- Alan Christianson, NMD, New York Times bestselling author of The Adrenal Reset Diet
"A results-driven approach to skin. Dr. Cates explains how your skin is giving you messages about your health, and she provides an easy-to-follow plan to finally have the skin you want and deserve."
- Mark Hyman, M.D., Chairman of the Institute for Functional Medicine and Founder & Director of The Ul
"Read this book to learn how the things that will make you live way past 100 can also make you look amazing right now.  Dr. Cates will transform how you think about your skin and aging."
- Dave Asprey, bestselling author of The Bulletproof Diet
"If you're sick and tired of having old, dry, wrinkly skin—or problems like acne, rosacea, psoriasis, or eczema—then I have good news: This safe, all-natural program is the answer you're seeking."
- Dr. Kellyann Petrucci, New York Times bestselling author of Bone Broth Diet
"Dr. Cates is the real deal. Her programs work better than any I've seen and, best of all, they are safe and natural."
- Dr. Pedram Shojai, New York Times bestselling author of The Urban Monk
"Clean Skin from Within takes the mystery out of anyone's skin care concerns and makes it easy to look your best by providing a practical roadmap (and delicious recipes!)." 
- JJ Virgin, CNS, CHFS, New York Times bestselling author of The Sugar Impact Diet and The Virgin Diet
"Clean Skin from Within shines with insightful information for anyone wanting to look and feel their youthful best from the inside out."
- Razi Berry, publisher, Naturopathic Doctor News & Review, NaturalPath, and The International Journal
"Clean Skin from Within provides a powerful toolbox for anyone ready to reclaim their health and have it radiantly reflected in their well-nourished skin." 
- Izabella Wentz, PharmD, FASCP, pharmacist, and New York Times bestselling author of Hashimotoâ??s the
"An empowering guide filled with keen insight and heartfelt compassion that can help every woman or man feel beautiful inside and out."
- Michael T. Murray, N.D., co-author of The Encyclopedia of Natural Medicine