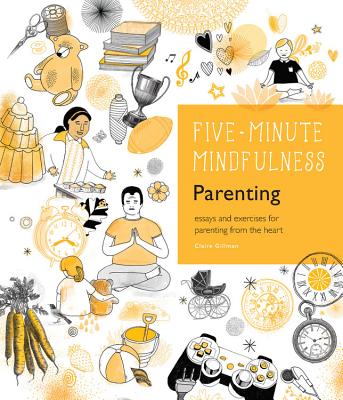 5-Minute Mindfulness
Parenting: Essays and Exercises for Parenting from the Heart (Five-Minute Mindfulness)
Hardcover

* Individual store prices may vary.
Description
Take the time truly connect with the ones you love.
Each and every day we do things that, though potentially rewarding, are too easily taken for granted or performed on auto-pilot. 5-Minute Mindfulness: Parenting is designed to help you take a mindful approach to these commonplace experiences and activities, making them more enjoyable, fulfilling, and relaxing.
Too often we focus on simply getting through the day, and in doing so fail to truly connect with the precious thing in everyone's life: family. 5-Minute Mindfulness: Parenting explores the ways in which the time we spend with our children can be calmer and more fulfilling. The enlightening essays and simple exercises in this book will help you to communicate more effectively, make your relationships more harmonious, and ensure that the time you spend together is rewarding for you, your partner, and your children. Attractive, compact, and accessible, these books work in harmony with the fast pace of modern life.
Fair Winds Press, 9781592337453, 144pp.
Publication Date: January 1, 2017
About the Author
Claire Gillman is an experienced journalist and writer. She is the editor of Kindred Spirit magazine, for which she has written numerous articles on therapies and mindfulness during the past decade. She has also written on alternative health, parenting, and spirituality for many magazines and newspapers, including The Times of London. Claire latest book is The Healing Therapies Bible (Sterling, 2016). Other recent MBS and parenting books include Best of Boys: Helping Your Sons through their Teenage Years (MacMillan, 2003, Albert Bridge Books 2014), A Green Guide to Bringing up Your Baby (Cico Books, 2009) and A Green Guide to Pregnancy (Cico Books, 2010). Claire is also an editor and mentor for Writers' Workshop and has run writing workshops and retreats. She lives in Horwich, UK.
or
Not Currently Available for Direct Purchase