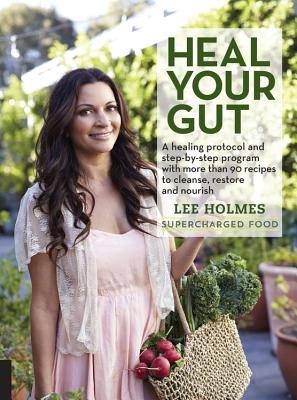 Heal Your Gut (Paperback)
A healing protocol and step-by-step program with more than 90 recipes to cleanse, restore, and nourish (Supercharge)
Fair Winds Press, 9781592337545, 280pp.
Publication Date: October 1, 2016
* Individual store prices may vary.
Description
Heal yourself of nasty food intolorences and nourish your body by starting with your gut!
Heal Your Gut is a beautifully designed and photographed step-by-step protocol for restoring your inner gut health, via a treatment program and detox regime--supported by 90 anti-inflammatory recipes to heal and nourish. Whether you're suffering from a health issue aggravated by diet and a poorly functioning digestive system, or whether you have an autoimmune or digestive disorder, food allergies or intolerances, IBD, IBS, Crohn's disease, celiac disease, leaky gut, inflammatory issues, thyroid problems, neurological disorders, obesity, diabetes, arthritis or fibromyalgia, this book will provide you with information, meal plans, and anti-inflammatory recipes to really heal your gut and get you back on track with your health. By following the protocol you'll feel more vibrant and alive, and have energy to burn. This book isn't just another fad diet: it contains recipes that have been specifically created to heal and also deliver vital nutrients, vitamins, and minerals to get your body systems functioning optimally.
About the Author
Lee Holmes holds an Advanced Certificate in Food and Nutrition and is a Certified Health Coach from the Institute of Integrative Nutrition. She is a wholefoods chef and author of bestselling books in the Supercharged Food series: Eat Your Way to Good Health, Eat Yourself Beautiful, Eat Clean, Green and Vegetarian, Heal Your Gut and 2017's Fast Your Way to Wellness. In 2006 her TV career ended up on the cutting room floor after being diagnosed with a debilitating autoimmune disease. After incorporating a wholefoods diet and successfully recovering, she created her blog Supercharged Food (www.superchargedfood.com), which won the BUPA Health Influencer award.  She is a regularly features on thedailymail.com and has been featured in Glamour, Grazia, BBC Good Food, The Sunday Times, Woman's Own, The Sun, The Daily Express and Women's Health.