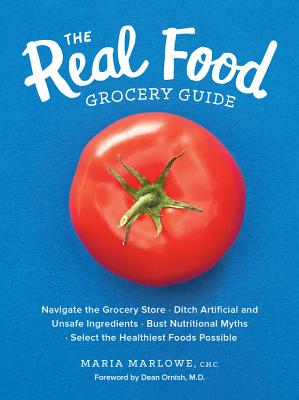 The Real Food Grocery Guide
Navigate the Grocery Store, Ditch Artificial and Unsafe Ingredients, Bust Nutritional Myths, and Select the Healthiest Foods Possible
Paperback

* Individual store prices may vary.
Praise For The Real Food Grocery Guide: Navigate the Grocery Store, Ditch Artificial and Unsafe Ingredients, Bust Nutritional Myths, and Select the Healthiest Foods Possible…
The guide breaks down each aisle of the grocery store and the health benefits and concerns of what you'll find, with a focus on choosing "real food". 
- AM NY
This new book will show you the healthy way to navigate the grocery store. 
- InStyle
Fair Winds Press, 9781592337552, 272pp.
Publication Date: June 1, 2017
About the Author
Maria Marlowe helps busy women improve their health, reach their ideal weight, and clear up their acne by upgrading their diet. She is a Certified Integrative Nutrition Health Coach and Founder of mariamarlowe.com, where you can learn how to optimize your diet and lifestyle to look and feel your best every single day.
 
In 2013, Maria opened a private Integrative Nutrition Health Coaching practice in New York City, and has since coached hundreds of people—from moms to business executives to celebrities—to healthier eating habits. She is also the host of the Happier & Healthier Podcast, available on iTunes, where she interviews doctors and health thought leaders on how to live your healthiest life. Maria's first book, The Real Food Grocery Guide (Fair Winds Press), has been called "the most practical book to navigate a healthier way of eating" by renowned physician and leading researcher in healthcare, Dr. Dean Ornish. Her tips and recipes have been featured in Vogue, InStyle, The New York Times, Dr. Oz, and more.

Maria currently lives in New York and coaches and consults privately for individuals and brands. She graduated summa cum laude from Fordham University before graduating from The Institute of Integrative Nutrition and attending Natural Gourmet Institute to study plant-based cooking.

You can find her at www.mariamarlowe.com or on Instagram at @MariaMarlowe.
Dean Ornish, MD, is the founder and president of the non-profit Preventive Medicine Research Institute in Sausalito, California, where he holds the Safeway Chair. He is Clinical Professor of Medicine at the University of California, San Francisco. Dr. Ornish received his medical training in internal medicine from Baylor College of Medicine, Harvard Medical School, and Massachusetts General Hospital. For the past 30 years, Dr. Ornish has directed clinical research demonstrating, for the first time, that comprehensive lifestyle changes may begin to reverse even severe coronary heart disease, without drugs or surgery. He is the author of several books, including the New York Times best seller, The Spectrum.