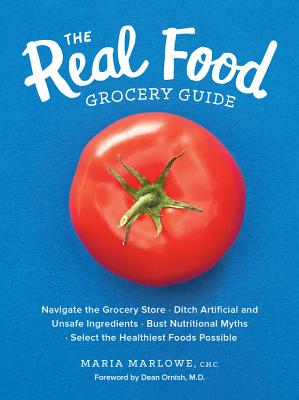 The Real Food Grocery Guide: Navigate the Grocery Store, Ditch Artificial and Unsafe Ingredients, Bust Nutritional Myths, and Select the Healthiest (Paperback)
Navigate the Grocery Store, Ditch Artificial and Unsafe Ingredients, Bust Nutritional Myths, and Select the Healthiest
Fair Winds Press (MA), 9781592337552, 272pp.
Publication Date: June 1, 2017
Description
The Real Food Grocery Guide helps you navigate every aisle of the grocery store, clearly outlining what foods are truly the healthiest, the freshest, and the most economical (and which ones belong in the garbage rather than your grocery cart )

Now you won't have to question whether fat-free or gluten-free is healthier, what food labels hidden meanings are, or if organic vegetables and grass-fed meat is worth the extra cost.

The Real Food Grocery Guide is the most comprehensive and actionable guide to grocery shopping and healthy eating ever with advice on:

- What to eat for health, balanced weight, and longevity
- How to shop to save a significant amount of time and money
- How to decipher food "buzz words" (like natural, grass-fed, wild, organic, gluten-free, etc.): know which to buy and which to leave on the shelf
- How to select the most nutritious and delicious produce, every time (no more getting home with brown avocados or tasteless melon)
- Why the quality of animal-products-such as meat, fish, eggs, and dairy-is crucial--and how to choose the healthiest kinds
- How to store fresh food properly so it doesn't spoil too quickly
- Why calorie counting is futile - and what you should look for instead to determine the healthiness of any food
- How to decipher what a food label is really saying
- How to avoid being duped by sneaky food industry claims and choose the best packaged products every time
About the Author
Maria Marlowe graduated summa cum laude from Fordham University; she studied holistic nutrition at The Institute for Integrative Nutrition and plant-based cooking at The Natural Gourmet Institute. She founded an Integrative Nutrition practice specializing in reversing acne and weight-loss through a real food diet and healthy lifestyle in New York City. She has helped improve the eating habits of moms, young professionals, and a number of celebrities and corporate executives. She publishes healthy recipes, meal plans, and nutrition tips on her site: www.mariamarlowe.com. Maria was named an Entrepreneur in Residence for IvankaTrump.com, where she publishes a monthly food and wellness column. She also has been a contributor to a number of digital publications, including: Huffington Post, Wellness Today, and MindBodyGreen. She has appeared on The Dr. Oz Show, CBS, and NBC, and has been featured in Vogue, The New York Times, Shape, BRIDES, Bella, Well+Good NYC, and many more.
Advertisement