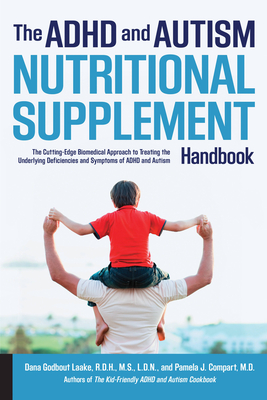 The ADHD and Autism Nutritional Supplement Handbook
The Cutting-Edge Biomedical Approach to Treating the Underlying Deficiencies and Symptoms of ADHD and Autism
Paperback

* Individual store prices may vary.
Other Editions of This Title:
Hardcover (1/1/2013)
Description
More than 90 percent of children diagnosed with ADHD or autism have nutritional or metabolic inefficiencies. Find out if your child is one of those suffering from this condition today, and learn how you can drastically improve your child's symptoms and wellbeing with The ADHD and Autism Nutritional Supplement Handbook. In this groundbreaking new book, doctor-nutritionist team Pamela Compart, M.D. and Dana Laake, R.D.H., M.S., L.D.N., authors of the bestselling TheKid-Friendly ADHD and Autism Cookbook, reveal how to properly and safely implement supplements and dietary changes to affect and counter the symptoms of autism. Through their proven, symptom-by-symptom treatment method, you'll learn exactly what regimens work best in helping your child's brain and body thrive, resulting in improved behavior, attention, mood, language, cognition, and social interaction.
Praise For The ADHD and Autism Nutritional Supplement Handbook: The Cutting-Edge Biomedical Approach to Treating the Underlying Deficiencies and Symptoms of ADHD and Autism…
"This book provides invaluable information on diet and supplements, as well as nutrient and medication interactions. From years of experience and sound research, these clinicians outline specific supplements that can positively impact your child's health and development. If you read only one guide this year, make it this one." - Nancy Hofreuter O'Hara, M.D., M.P.H., F.A.A.P., Center for Integrative Health, Wilton, CT.

"This is a much needed serious yet readable and usable guide to leveraging diet and nutrition to maximize progress for those with ADHD and autism. Critical topics are covered and the reader will be armed, not only with practical advice, but also with genuine understanding and the ability to make much better decisions." - Martha Herbert, M.D., Ph.D., Assistant Professor of Neurology at Harvard Medical School, Pediatric Neurologist at the Massachusetts General Hospital, Affiliate of the Harvard-MIT-MGH Martinos Center for Biomedical Imaging, Director of the TRANSCEND Research Program, Author of The Autism Revolution

"Lost in the landscape of ASD, PDD, ADHD and a jungle of other labels for children's problems? The best path favors not labels but logical questions shared by practitioner and parent. Does this child have a special unmet need to get and/or avoid something which, if addressed, will favor Nature's buoyant impulse toward healing? This book guides you among the options and up the steps of that path with clarity, precision, wisdom and wit."  - Sidney M. Baker, M.D., F.A.A.P., Founder and CVO of Autism360.org , Author of Detoxification and Healing, co-author of Autism: Effective Biomedical Treatments
Fair Winds Press, 9781592337569, 256pp.
Publication Date: March 1, 2016
About the Author
Dana Godbout Laake, RDH, MS, LDN, is a licensed nutritionist in Kensington, Maryland. Within her practice, Dana Laake Nutrition, she provides preventive and therapeutic medical nutrition therapy to adults and children. An honors graduate from Temple University (health sciences, dental hygiene), she received her master's degree in nutrition from the University of Maryland. She was recipient of the Temple University 50th Anniversary Outstanding Alumnus award. Ms. Laake has served as a Maryland Legislative assistant on health issues, was coauthor of the legislation that established licensure boards for dietetics and nutrition in both Maryland and Washington, DC, and has served four gubernatorial appointments on two health care regulatory boards (dentistry and dietetics). She has been a partner in three functional medicine practices and provides local and national continuing education courses.  In addition to writing and hosting a radio show, Dana is a scientific advisor and content contributor for the Autism Exchange and for the Neurological Health Foundation Healthy Child Guide. She is also coauthor of The ADHD and Autism Nutritional Supplement Handbook.
Pamela J. Compart, MD, is a developmental pediatrician in Columbia, Maryland. She completed a pediatric residency at Children's National Medical Center in Washington, DC, and fellowship training in Behavioral and Developmental Pediatrics at the University of Maryland School of Medicine. She combines traditional and complementary medicine approaches to the treatment of ADHD, autism, and other behavioral and developmental disorders. Dietary changes and use of nutritional supplements complement traditional treatments such as appropriate educational placement and speech therapy, occupational therapy, and other therapies. She founded and directed HeartLight Healing Arts, a multi-disciplinary integrated holistic health care practice providing services for children, adults, and families for 15 years.  She is currently in solo practice, focusing on her passions of patient care, teaching, and writing. She is also coauthor of The ADHD and Autism Nutritional Supplement Handbook.