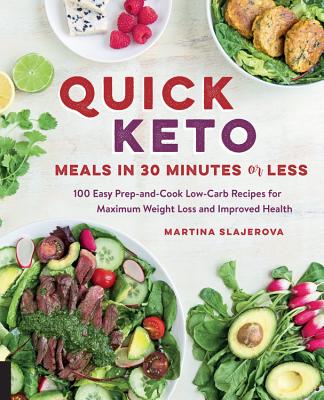 Quick Keto Meals in 30 Minutes or Less (Paperback)
100 Easy Prep-And-Cook Low-Carb Recipes for Maximum Weight Loss and Improved Health
Fair Winds Press (MA), 9781592337613, 192pp.
Publication Date: June 1, 2017
Description
Keto meals take considerably longer to make than meals for traditional diets, but they don't have to with Quick Keto Meals in 30 Minutes or Less

The keto diet is being regarded as the go-to eating plan for weight loss, to keep blood sugar stable, or simply staying healthy. However, adapting recipes to make them keto-friendly means adding cooking time, preparation, and hard-to-find ingredients. Things that aren't possible when you need to get a meal on the table after a busy day -- and even keto followers can't live on avocados and bacon alone.
Keto Meals in 30 Minutes or Less presents you with 100 delicious recipes rich with healthy fats for breakfast, lunch, dinner, and even snacks that are quick, easy, varied, and delicious. Don't spend two hours making one meal All of these ketosis recipes take a half hour to hit the table, can be made in large batches, or built into other dishes, like casseroles, slow cooker entrees, and more. Plus, all ingredients are easy to find, so there's no searching specialty stores.
About the Author
Martina Slajerova is a health and food blogger living in the United Kingdom. She is the bestselling author of The KetoDiet Cookbook, Sweet & Savory Fat Bombs, and Quick Keto Meals in 30 Minutes or Less. A firm-believer in low-carb living, Martina discovered the ketogenic diet after being diagnosed with Hashimoto's Disease in 2011. Frustrated with the lack of practical resources, Martina created the KetoDiet app and blog to help others live the ketogenic lifestyle successfully. A science geek at heart, Martina incorporates the latest research as well as firsthand experience into her advice. When creating recipes, she focuses not just on carb count but on creating delicious, healthy recipes that are free of processed ingredients, unhealthy vegetable oils, and artificial sweeteners. Today her blog posts reach hundreds of thousands of people and her work has been featured in Cosmopolitan, Glamour, Huffpost Healthy Living, BuzzFeed, as well as dozens of other low-carb media and outlets.
Advertisement