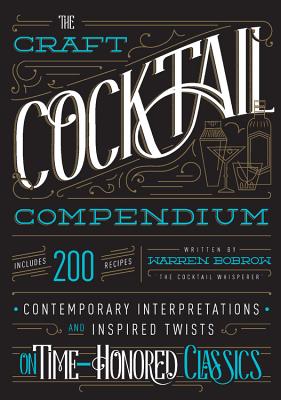 The Craft Cocktail Compendium
Contemporary Interpretations and Inspired Twists on Time-Honored Classics
Hardcover

* Individual store prices may vary.
Description
Muddle, mix, shake, stir, pour--whatever the method, you'll learn how to create the perfect cocktail.

"This carefully curated collection of classic cocktail recipes, and variations thereon, works for both professional bartenders, and their home mixologist brothers and sisters, all in one very creative compendium. This is the book you're looking for." 

--Gaz Regan, Author, The Joy of Mixology
Whether you're new to mixing drinks or have been creating your own cocktails for years, The Craft Cocktail Compendium has everything you need to know to mix, shake, or stir your way to a delicious drink. With over 200 craft cocktail recipes, expert mixologist Warren Bobrow will help you broaden your skills and excite your taste buds with unique takes on timeless favorites and recipes you've likely never tried before.

--Feeling distracted and edgy? Sip a Lemon Balm Gin and Tonic to soothe jangled nerves.
--Need some tranquility? Slowly sip a Cabin in the Pines, a magical blend of roasted stone fruits muddled with white whiskey and Fernet Branca.
--Enjoyed one--or three--too many drinks last night? The Corpse Reviver might be your curative of choice.
--Chasing sleep and counting sheep? Try the German Relaxation cocktail with an Alpine herbal elixir and honey syrup.
Fair Winds Press, 9781592337620, 320pp.
Publication Date: May 1, 2017
About the Author
Warren Bobrow is the creator of the popular blog cocktailwhisperer.com and the author of Apothecary Cocktails, Whiskey Cocktails and Bitters and Shrub Syrup Cocktails.
Warren has taught classes on spirits and cocktails all over the world, including an advanced class on rum at the Moscow Bar Show. He's taught the fine art of social media and food writing at the New School in New York as well as classes on creative cocktails and mocktails at Stonewall Kitchen in Maine.
Warren has written hundreds of articles on cocktails and food for Chilled Magazine, Saveur, Whole Foods/Dark Rye, Total Food Service, Eater, Voda, Serious Eats, Foodista, Distiller, Sip and Beverage Media as well as many other international outlets. He has also written for the Oxford Encyclopedia: Gotham issue and the Sage Encyclopedia of Food Issues. He has forthcoming research being published in the History of Food and Drink of New Jersey by Wiley Publishing.
Warren was a 2010 Ministry of Rum judge, was selected to be a judge for the 2016 Edible Communities EDDY Awards, and was the only American food journalist asked to participate in Fete de la Gastronomie, a nationwide celebration of French cuisine in Burgundy.
or
Not Currently Available for Direct Purchase