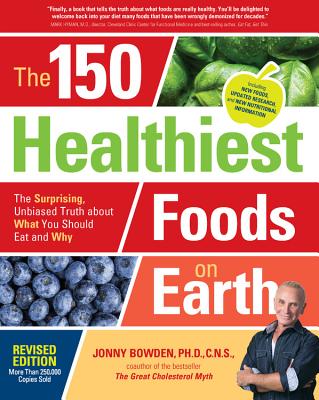 The 150 Healthiest Foods on Earth, Revised Edition
The Surprising, Unbiased Truth about What You Should Eat and Why
Paperback

* Individual store prices may vary.
Other Editions of This Title:
Paperback (1/1/2007)
Description
It's time to debunk all the myths about foods we want to eat. The 150 Healthiest Foods on Earth, Revised Edition delivers facts on foods; no spin, no agenda.

In this newly updated nutrition reference guide, acclaimed nutritionist and bestselling author Jonny Bowden debunks traditional food myths, saves the reputations of foods long suffering from bad publicity, and provides just the facts—so you can make good, health-conscious decisions about which foods you and your family should eat.
 
You'll learn the latest research on many of your favorite foods, as well as some surprising new findings on the health benefits of foods you may have been avoiding unnecessarily.
 
Did you know that, according to the latest research,
Saturated fat does not cause heart disease?
Full-fat dairy may protect against diabetes?
There is no need to avoid meat if it is 100 percent grass fed?
There is a major difference between farmed salmon and wild salmon?
 
No food provides everything. But real food—whole food with minimal processing—contains a virtual pharmacy of nutrients, phytochemicals, enzymes, vitamins, minerals, antioxidants, anti-inflammatories, and healthful fats, all of which keep you alive and thriving. Learn how easy it is to find "real" food and discover what more than a dozen well-known nutrition experts say are their "top ten" healthiest foods on earth.
Fair Winds Press, 9781592337644, 376pp.
Publication Date: August 29, 2017
About the Author
Jonny Bowden, PhD, CNS, (Woodland Hills, CA), also known as The Nutrition Myth Buster, is a nationally known, board-certified nutritionist and expert on diet and weight loss. He has appeared on the Dr. Oz Show, Fox News, CNN, MSNBC, ABC, NBC, and CBS and has contributed to articles in the New York Times, Forbes, the Daily Beast, Huffington Post, Vanity Fair Online, Men's Heath, Prevention, and dozens of other print and online publications. He is a popular speaker who presents at both academic and consumer events all over the world.