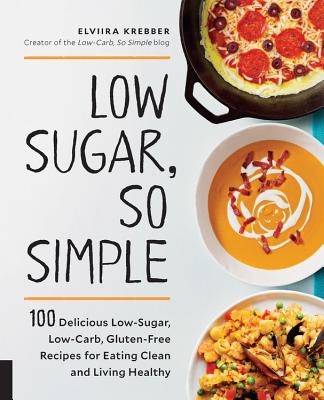 Low Sugar, So Simple (Paperback)
100 Delicious Low-Sugar, Low-Carb, Gluten-Free Recipes for Eating Clean and Living Healthy
Fair Winds Press, 9781592337798, 192pp.
Publication Date: November 21, 2017
* Individual store prices may vary.
Description
Low Sugar, So Simple will get the sugar off your plate for good with 100 recipes free of the sugars that are sabotaging your health.

Sugar is quickly becoming the next health epidemic. Numerous studies have confirmed that sugar is a highly addictive substance with catastrophic effects on our health. Research has shown that drinking a can of soda a day increases the risk of a heart attack nearly as much as smoking.

Sugar lurks in everything from condiments to salad dressing to deli meat. Combine that with the fact that many foods contain things like starches, fillers, and artificial ingredients which act like sugar in the body, and you've got a perfect storm for lifelong sugar addiction and compromised health. 

Low-Sugar, So Simple shows you how to get sugar off your plate for good. Popular blogger Elviira Krebber of Low-Carb, So Simple provides 100 low and no sugar recipes for everything from condiments to main dishes to desserts. Learn healthy substitutions for sugar, how to remove stealth sugars, and get the sugar pretenders like starches, fillers, and additives out of your diet for good. Done in the author's trademark approachable style, living the low-sugar lifestyle is easy with 100 recipes that are delicious, healthy, and easy to prepare.
About the Author
Elviira Krebber is the creator of the Low-Carb, So Simple blog, one of the most popular low-carb blogs on the web. Followed by over 600K fans on Facebook, thousands of people visit her blog daily. Beloved by low-carb dieters everywhere, Elviira has helped her audience live the low-carb lifestyle by developing and publishing hundreds of easy and healthy sugar-free, gluten-free, low-carb recipes. Her most popular recipe "Chicken in Creamy Onion Sauce" has been shared close to half a million times. As a busy mom, Elviira knows time is often at a premium and that healthy food needs to be prepared quickly and easily. Thus, she strives for a simple approach in all of her recipes. Her Low-Carb, So Simple recipes have been featured in Cosmopolitan, Huffington Post, BuzzFeed, Low-Sugar Living, and in the Red magazine.
Praise For Low Sugar, So Simple: 100 Delicious Low-Sugar, Low-Carb, Gluten-Free Recipes for Eating Clean and Living Healthy…
"Elviira's talent in the kitchen really shines in her new book Low Sugar, So Simple. She has a simple and easy approach to delicious and nutritious low-carb meals. This book should be a staple in every low-carb kitchen!
-  Kyndra Holley, Cookbook Author and Food Blogger at Peace, Love, and Low Carb
"Elviira shares her trademark delicious and easy recipes in this wonderful book! These healthy keto-friendly recipes will satisfy your taste buds and your desire for simple healthy recipes you can prepare quickly. Low-Sugar So Simple will quickly become a staple in your keto kitchen!"
--Maria Emmerich, author of Keto-Adapted and The Ketogenic Cookbook
"As a fellow blogger, I'm excited to recommend Elviira's new cookbook to anyone interested in delicious, fuss-free and sugar-free recipes. Elviira's book proves that you can whip up tasty food without having to spend hours in the kitchen. It's an absolute must-have for every busy cook who wants to quit sugar and follow a healthy low-carb diet."
--Martina Slajerova, author of the The KetoDiet Cookbook