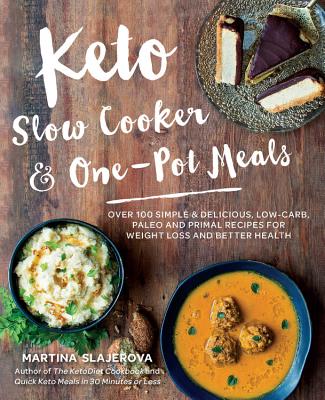 Keto Slow Cooker & One-Pot Meals
Over 100 Simple & Delicious Low-Carb, Paleo and Primal Recipes for Weight Loss and Better Health (Keto for Your Life #4)
Paperback

* Individual store prices may vary.
Description
Keto Slow Cooker & One-Pot Meals packs 100 high-fat, low-carb keto recipes! Enjoy quick, tasty dinners as you get healthy, lose weight, and control your blood sugar.
Slow cooker and one-pot meals are the ultimate convenience food. Just fix it and forget it, then enjoy a nourishing meal when everyone gets home. Unfortunately, most slow cooker and one-pot recipes depend on processed, high-carbohydrate ingredients like noodles, potatoes, and other high-glycemic ingredients which aren't allowed on the
ketogenic diet
.
Now you can combine the
convenience of slow cooker
and
one pot recipes
with your ketogenic lifestyle! 
Keto Slow Cooker & One-Pot Meals
allows you to enjoy your slow cooker again without sacrificing your keto diet. This unique cookbook is filled with
100 keto recipes
for everything from
satisfying soups
 to quick
skillet meals
and
savory stews
.
Just a few of the simply delicious recipes:
Ratatouille Soup
Pumpkin & Chorizo Meatball Soup
Pork Lo Mein
Italian Sausage Frittata
Broccoli & Mushroom Alfredo Casserole
Stuffed Cabbage Rolls with Spicy Hollandaise
Spiced Chocolate & Coconut Cake
Macadamia Chai Cake
With 
Keto Slow Cooker & One-Pot Meals
, you'll always be able to get a healthy ketogenic meal on the table without the fuss.
Praise For Keto Slow Cooker & One-Pot Meals: Over 100 Simple & Delicious Low-Carb, Paleo and Primal Recipes for Weight Loss and Better Health (Keto for Your Life #4)…
"Simply designed with a gorgeous layout, this book is a winner! I'm really impressed with the tools and tips offered throughout the book—it's great for slow cooking newbies or veterans alike!" — Leanne Vogel, best-selling author of The Keto Diet

"Martina's newest book is fantastic! She shows that it's really easy to prepare hearty meals in a slow cooker and one pot. The book is filled with helpful tips, and it features impressive—yet trouble-free—recipes accompanied by Martina's professional, mouth-watering photos." — Elviira Krebber, author of Low-Sugar, So Simple

"This is a book that belongs in every low-carber's collection! If a friend or loved one follows a ketogenic, low-carb, or Paleo diet, get in good with them by giving this as a gift. If you're lucky, they'll thank you by treating you to one of the dishes! " — Amy Berger, C.N.S, author of The Alzheimer's Antidote

"Keto Slow Cooker One-Pot Meals is a must-have for all low carb, keto, paleo, and primal enthusiasts who enjoy delicious, healthy food but don't want to spend hours in the kitchen." — Franziska Spritzler, R.D., C.D.E., author of The Low Carb Dietitian's Guide to Health and Beauty
Fair Winds Press, 9781592337804, 208pp.
Publication Date: November 21, 2017
About the Author
Martina Slajerova is a health and food blogger living in the United Kingdom. She is the best-selling author of The KetoDiet Cookbook, Sweet and Savory Fat Bombs, Beginner's KetoDiet Cookbook, Quick Keto Meals in 30 Minutes or Less, Keto Slow Cooker & One-Pot Meals, The Keto All Day Cookbook, Super Low-Carb Snacks, and Keto Simple. A firm believer in low-carb living, Martina discovered the ketogenic diet after being diagnosed with Hashimoto's Disease in 2011. Frustrated with the lack of practical resources, Martina created the KetoDiet app and blog to help others live the ketogenic lifestyle successfully. A science geek at heart, Martina incorporates the latest research as well as firsthand experience into her advice. When creating recipes, she focuses not just on carb count, but on creating delicious, healthy recipes that are free of processed ingredients, unhealthy vegetable oils, and artificial sweeteners. Today her blog posts reach hundreds of thousands of people and her work has been featured in Cosmopolitan, Glamour, Huffpost Healthy Living, BuzzFeed, as well as dozens of other low-carb media and outlets.