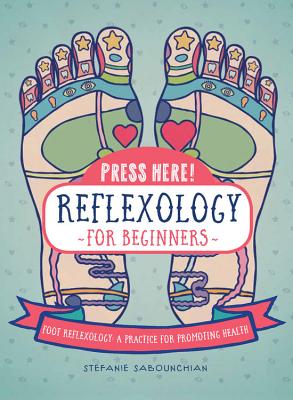 Press Here! Reflexology for Beginners (Hardcover)
Foot Reflexology: A Practice for Promoting Health
Fair Winds Press, 9781592337927, 128pp.
Publication Date: September 15, 2017
* Individual store prices may vary.
Description
Originally practiced by the ancient Chinese and Native Americans, Press Here! Reflexology for Beginners shows how to use massage pressure on the feet to heal holistically.

Every part of your body has a corresponding reflex point on the feet; applying pressure to these specific points, you will naturally and non-invasively send relief to the corresponding part of your body. It's no wonder that reflexology has become one of the most popular alternative forms of healing. An overall healthy lifestyle is a huge part of staying healthy, but the powerful touch of reflexology will give you a leg up in the health department. 

While the principles of reflexology are simple, reflexology charts can be overwhelming for the beginner. Press Here! Reflexology for Beginners gives a clear explanation of where to find the reflex point on the foot, how it relates to the body, and how to apply the correct pressure for the strongest effect. Organized by reflex points from the top of the body to the bottom—one at a time on a double page—makes this guide a breeze to follow, and a fun and easy way to explore the art of foot reflexology.

The Press Here! series offers contemporary takes on traditional hands-on healing practices for a new generation of practitioners. These introductory guides feature easy-to-access organization, clear instructions, and beautiful illustrations of each technique. Other Press Here! topics include massage, reiki, and acupressure.
About the Author
Stefanie Sabounchian, a native German, has a thriving private reflexology practice in Los Angeles, California, and teaches foot, hand, and ear reflexology at several schools, including the American Academy of Reflexology, where she is one of the core teachers, as well as various international workshops. She is nationally certified with the American Reflexology Certification Board and a past president of the Reflexology Association of California.
Emily Portnoi is a professional designer with extensive experience working in advertising, branding, packaging design, illustration, and publishing. She lives in Brighton, UK.