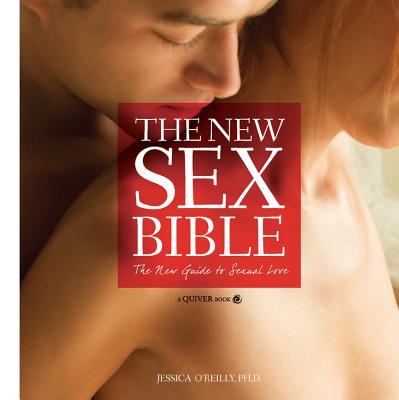 The New Sex Bible
The New Guide to Sexual Love
Paperback

* Individual store prices may vary.
Description
The New Sex Bible is the complete lover's guide to all things sexual, with a balance of science and anecdote, theory and hair raising practice.

While the mechanics of sex remain largely the same, our knowledge and attitude towards it shifts every few years based on popular culture. Until just recently, kink and toys were considered deviant fringe. Turning 50 used to mean the end of sex,but today Baby Boomers are healthier and more sexually active than ever! Plus, new research has yielded more information on sexual arousal and orgasms than ever before.

The New Sex Bible is a comprehensive primer to every aspect of sex, as well as how to get it and give it good. This is your chance to get hot, up-to-date information with solid new takes on core categories like oral, orgasms, and intercourse. Not to mention some extra sections with a bit of an edge; you'll see how to pull off spicy new positions and put daring twists on classics.
Quiver, 9781592338061, 224pp.
Publication Date: March 15, 2017
About the Author
Jessica O'Reilly (Dr. Jess) is a sexologist, relationship expert, and television personality who travels the globe to promote healthy and deliciously pleasurable sex. From hosting PlayboyTV's top-rated reality show, SWING, to running beachside couples' retreats in the Caribbean, she relishes in every moment.
With a Ph.D. in human sexuality and an extensive resume of international experience, Dr. Jess has become the go-to expert for all things sexual. Her speaking engagements at clinical conferences, colleges/universities, corporate retreats, and entertainment events draw sold-out crowds and she keeps audiences coming back for more with her intimate knowledge of S-E-X, warm personality, and healthy sense of humor.
Dr. Jess has worked with over 1,200 couples from all corners of the world to improve communication, enhance trust, overcome sexual challenges, and keep the sexual flame burning in long-term relationships. She also offers sexuality education and support for special needs youth, HIV-positive clientele, classroom teachers, cancer survivors, parents, teens, and clinicians.
Dr. Jess has officially authored Hot Sex Tips, Tricks, and Licks, The Little Book of Kink, and the upcoming New Sex Bible. She is the unofficial author (not named) of the Oral Sex Deck.