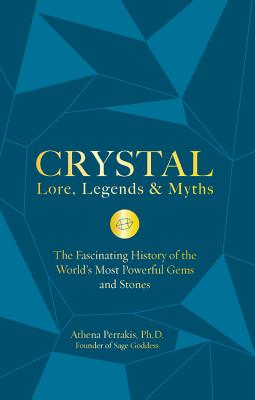 Crystal Lore, Legends & Myths (Hardcover)
The Fascinating History of the World's Most Powerful Gems and Stones
Fair Winds Press, 9781592338412, 192pp.
Publication Date: March 26, 2019
* Individual store prices may vary.
Description
To access the power of crystals, you must know their stories. Crystal Lore, Legends & Myths presents these fascinating histories and legends of the world's crystals.

Crystals, gems, and semi-precious stones have long been sought for their beauty, power, and utility. Historically used as adornments, currency, talismans, and amulets, crystals have been reputed through the ages to bestow magic and power on the user. However, in order to fully harness each stone's unique power, one must know the unique legends and lore attached to it.

Every stone has a narrative or key that unlocks its power. Oftentimes, these legends have been lost—or even deliberately altered—to confuse and obscure. In Crystal Lore, Legends & Myths, leading crystal expert and metaphysical teacher Athena Perrakis presents the fascinating history of the world's most powerful stones. This comprehensive collection of stones presents to you the legends and relics from different cultures and ancient civilizations, including Lemuria, Sumeria, Egypt and Atlantis, among others.

Learn the fascinating stories of how gems and minerals were used to raise power, store wisdom and secret teachings, and give incredible healing—and tap into the powers of the crystals yourself!
About the Author
Dr. Athena Perrakis (Torrance, California)  is the bestselling author of The Ultimate Guide to Chakras, Crystals Lore, Legends & Myths, and The Book of Blessings. She is the Founder and Chief Executive Officer of Sage Goddess, the world's largest source of sacred tools and metaphysical education. Each week, Sage Goddess reaches almost two million people across the globe, on every continent and in more than 60 countries. She holds a PhD from the University of Southern California in educational leadership, and has 15 years of experience as a professor, corporate trainer and consultant, and educator. Athena has traveled the globe and worked with CEOs and senior executives from the Fortune 50 companies. But her metaphysical experience, in which her current work is largely rooted, spans more than 30 years. During that time, she has become an expert in gemology, astrology, Tarot, aromatherapy, Reiki, and herbal medicine. Her Etsy shop was the first online metaphysical storefront to reach the Top 10 stores in the handmade category around the world. Today, there are more than 3000 products available through SageGoddess.com—everything from essential oils and ritual perfumes to candles, jewelry, gemstones in every form, home decor, clothing, body art and temporary tattoos, canvas art, and more.
Praise For Crystal Lore, Legends & Myths: The Fascinating History of the World's Most Powerful Gems and Stones…
My crystal healing students are forever asking for a book on the ancient history and lore of using crystals for therapy. Athena, being the wise sage that she is, tuned into that need and has written an easy to use essential reference book for all those interested in the age-old crystal traditions that have been echoed down through the ages. Finally, a comprehensive well-researched book on the subject that's also a joy to read.
- Hibiscus Moon, Author and Founder of Hibiscus Moon Crystal Academy
Perrakis takes crystals to the next level with this insightful guide. With abundant research and passion, each page glistens with history, context, and story — deepening your connection to crystals and their innate wonder. From Sumeria to Atlantis, the magic of the natural world comes alive in these beautiful pages. 
- Lisa Marie Basile, author of Light Magic for Dark Times