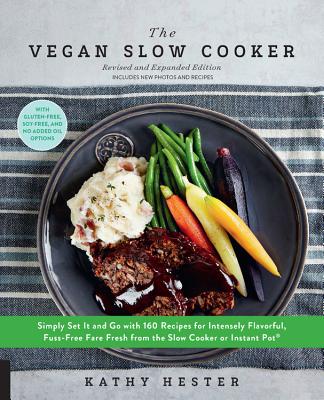 The Vegan Slow Cooker, Revised and Expanded (Paperback)
Simply Set It and Go with 160 Recipes for Intensely Flavorful, Fuss-Free Fare Fresh from the Slow Cooker or Instant Pot®
Fair Winds Press, 9781592338429, 256pp.
Publication Date: December 4, 2018
* Individual store prices may vary.
Description
The Vegan Slow Cooker, Revised and Expanded is the perfect collection of simple, wholesome, plant-based recipes that are convenient and sure to satisfy the whole family.
Every home cook wants to prepare hot, nutritious, home-cooked meals for their family and friends, but time is rarely on our side. With a slow cooker or Instant Pot, however, that can all change. You can create delicious meals that are loaded with healthy
ingredients--AND work with your schedule.
Author and slow cooker aficionado Kathy Hester gives you the techniques and tricks you need to
make the most out of your slow cooker or multi-cooker
. This revised edition of the previously best-selling cookbook features
more than 20 new and updated recipes (more than 160 recipes in all)
, new tricks for streamlining recipes, and all-new photography. Recipes also include gluten-free, soy-free, and no oil added options. 
The reward for your simple morning prep is perfectly cooked, intensely flavorful, one-dish meals that are hot and ready as soon as you walk in the door each day. You'll find recipes that cover every meal and type of cuisine, from your favorite
comforting casseroles and stews
, to fresh and exciting new takes on
pizza
and
desserts
—all
deliciously plant-based and vegan-friendly
.
Just a few of the great recipes you'll find include:
Cranberry Vanilla Quinoa
White Bean and Kale Stew
Chorizo and Sweet Potato Enchilada Casserole
Chick'n Marsala
Mashed Potato and Edamame Burrito Filling
Pumpkin White Bean Lasagna
Meatless Sausage-Mushroom Ragu
Savory Cheddar Sausage Bread
Mango Coconut Rice Pudding
Chile-Chocolate Black Bean Brownies
Get started creating healthy, delicious, stress-free meals today with
The Vegan Slow Cooker, Revised and Expanded
. It's as simple as the flick of a switch!
About the Author
Kathy Hester is the founder of the blog Healthy Slow Cooking (healthyslowcooking.com) and author of The Vegan Slow Cooker, Vegan Slow Cooking for One or Two, Oatrageous Oatmeals, The Great Vegan Bean Book, The Easy Vegan Cookbook, and The Ultimate Vegan Cookbook for Your Instant Pot. She writes for various online health and cooking websites, including Bright Hub (brighthub.com), Divine Caroline (divinecaroline.com), Everything Mom (everythingmom.com), and The Healthy Hostess (thehealthyhostess.com). She lives in Durham, North Carolina.