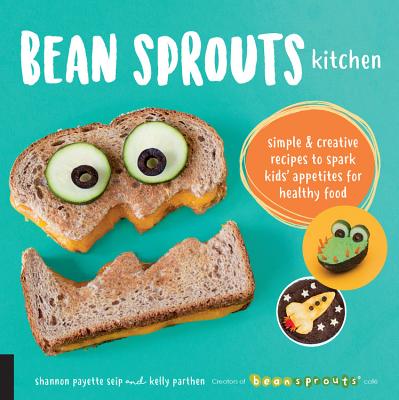 Bean Sprouts Kitchen (Paperback)
Simple and Creative Recipes to Spark Kids' Appetites for Healthy Food
Fair Winds Press (MA), 9781592338498, 144pp.
Publication Date: November 6, 2018
* Individual store prices may vary.
Description
Bean Sprouts Kitchen is a hip and healthy cookbook featuring 60 easy-to-make recipes that kids will love to create and eat
From the popular Bean Sprouts Caf comes a kid-friendly cookbook with
recipes easy enough for kids to make themselves
, and that are tasty enough to satisfy picky eaters
The Bean Sprouts Kitchen
presents kids and parents with 60 recipes and photos, including recipes featured on the Bean Sprouts Caf menu.
With
fruit and veggie-based
side dishes,
wholesome entrees
, and
delightful drinks
, even the hardest to please will find something to enjoy in this book. Designed to promote independence in young chefs,
Bean Sprouts Kitchen
recipes include safety tips and
avoid knives
, allowing kids to experiment with food safely.
All recipes are playful in their styling, cleverly named, and have a
focus on good-for-you food
. Ingredient guidelines are held to the same standards as the authors' award-winning Bean Sprouts caf's. Many of the recipes included in this book have proven successful with thousands of eaters at the multiple locations of Bean Sprouts Caf around the US.
Among the many yummy dishes and drinks kids will be tickled to make:
Daredeviled Eggs
Hootabaga
Dino S'mores
Vegetablaze
Wrap Star
Mash of the Penguins
Xylofun
Mr. Purple Gurple
Add some whimsy to your healthy family cooking with the
Bean Sprouts Kitchen.
Bean Sprouts Caf , named one of the Top 75 Brands in Fast Casual's 2018 Movers and Shakers list, has locations all over the country, including: Discovery Cube, Santa Ana, CA; Arizona Science Center, Phoenix, AZ; Center of Science and Industry, Columbus, OH; Bay Area Discovery Museum, Sausalito, CA; Discovery Cube, Los Angeles, CA; Chabot Space and Science Center, Oakland, CA; Bean Sprouts Headquarters, Orange, CA; Dutch Wonderland Amusement Park, Lancaster, PA; New Children's Museum, San Diego, CA; Milwaukee County Zoo, Milwaukee, WI; Kennywood Amusement Park, West Mifflin, PA; DuPage Children's Museum, Naperville, IL; Garden of the Gods Visitor & Nature Center, Colorado Springs, CO; and Pittsburgh Zoo and PPG Aquarium, Pittsburgh, PA.
About the Author
Shannon "Peacasso" Seip is the creative force behind Bean Sprouts. Creator of the award-winning The Bean Sprouts Kitchen menu, she captains the design of each new location. Shannon currently oversees the licensing branch of Bean Sprouts' expansion, focusing on cultural facilities and amusement parks. With years of experience as a morning show television anchor and writer for American Girl magazine, Shannon has written several books, including two for American Girl and was a topranked contributing editor of NickMom/Nickelodeon, both online and on the air. Shannon's first kids' cookbook book, Bean Appétit: Hip & Healthy Ways to Have Fun with Food (Andrews McMeel, 2010), debuted when she and Kelly had just one café and a customer base of under 10,000 people. Bean Appétit was named one of the Top 10 Kids' Cookbooks by iVillage (now today.com) and has been featured on The Today Show, Good Morning America, and in nearly every major parenting publication and site. Kelly "Pea Brain" Parthen spearheads Bean Sprouts' brand marketing strategies and national partnerships. Kelly's former role as PR Director for a Fortune 500 company has made her a powerhouse to elevate Bean Sprouts to a national level. Kelly's marketing efforts have landed Bean Sprouts hundreds of media features and mentions, multiple awards in the restaurant industry, an invitation to the White House, and numerous national speaking opportunities (Association of Children's Museums, major mom conferences, baby & kids' expos, etc.). Kelly also secures strategic partnerships, such as Bean Sprouts' role as a featured advocate in Association of Junior League International's "Kids in the Kitchen" campaign. She lives in Colorado Springs, CO. Shannon and Kelly are feature speakers at major industry conferences, from ACM (Association of Children's Museums) and ASTC (Association of Science & Technology Centers) to Fast Casual Executive Summit and IAAPA (International Association of Amusement Parks & Attractions). Bean our guest, and visit our website at beansprouts.com for more information about our Bean Sprouts cafés. Shannon and Kelly were recognized as Top 25 Executives in Fast Casual's 2018 Movers and Shakers list, which also named Bean Sprouts Café in its Top 75 Brands.