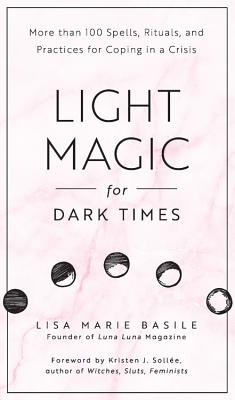 Light Magic for Dark Times
More than 100 Spells, Rituals, and Practices for Coping in a Crisis
Hardcover

* Individual store prices may vary.
Description
When the world around you turns dark, tap into the light. If you're having a hard time finding that light, facing trauma and division, or want to send healing vibes to a friend, the inspired, easy-to-do spells of Light Magic for Dark Times can assist.
Luna Luna magazine's Lisa Marie Basile shares inspired spells, rituals, and practices, including:
A new moon ritual for attracting a lover
A spell to banish recurring nightmares
A graveyard meditation for engaging with death
A mermaid ritual for going with the flow
A zodiac practice for tapping into celestial mojo
A rose-quartz elixir for finding self-love
A spell to recharge after a protest or social justice work

These 100 spells are ideal for those inexperienced with self-care rituals, as well as experienced witches. They can be cast during a crisis or to help prevent one, to protect loved ones, to welcome new beginnings, to heal from grief, or to find strength.
Whether you're working with the earth, performing a cleanse with water or smoke, healing with tinctures or crystals, meditating through grief, brewing, enchanting, or communing with your coven, Light Magic for Dark Times will help you tap into your inner witch in times of need.
Praise For Light Magic for Dark Times: More than 100 Spells, Rituals, and Practices for Coping in a Crisis…
Praise for Lisa Marie Basile:
"I came to Lisa Marie Basile's Apocryphal eager to travel off the beaten paths—of genre, of narrative, of self-disclosure and self-discovery. I was never once disappointed." – The Rumpus, Julie Marie Wade [http://therumpus.net/2014/11/apocryphal-by-lisa-marie-basile/]
 
 "Part of being authentically you and authentically a Smart Girl lies in being able to rise above difficult circumstances and find passion and success. No one exemplifies that spirit more than our newest Smartist, poet Lisa Marie Basile. After a challenging childhood, Basile is "shaking up the world of words" according to one New York Daily News article, with her work focused on the body, the feminine, glamour, beauty and mischief." – Amy Poehler's Smart Girls Series [https://amysmartgirls.com/smartists-lisa-marie-basile-199d6e69640d]
 
"Lisa Marie Basile founded Luna Luna Magazine in 2013. Thanks to a growing community of writers, it is so much more than a "lifestyle magazine." It has unapologetic and original perspectives on everything from body positivity to witchcraft. The content is divided into "light" and "dark" content where readers can feed their good and bad sides." – Buzzfeed's Girl Squads You Need to Know [https://www.buzzfeed.com/handm/9-girl-squads-you-should-know-about?utm_term=.dh2ArKxnr#.jvedK7Q1K]
 
"Lisa Marie is the most hard-working professional I know in the publishing industry. She is constantly growing her list of transferable and adaptable skills, and has a keen writing voice—one that has been recognized by many press associations, and publications. I'm constantly impressed by Lisa's level of dedication to her field—from consistently getting published to creating her own online magazine. LunaLuna Magazine has over 50 contributors, and thousands of emails each week of people wanting to contribute to this piece of this Internet real estate Lisa created—a luxury many startups work tirelessly to achieve, but Lisa snagged it as soon as she added herself to the competition. She is smart, well-versed, and deserving of all the career success." – Laura Delarato, Refinery 29 [https://www.linkedin.com/in/lisambasile/]
 
"Technically the poet is exquisitely skilled. She experiments freely with form and metre; arranging her poems with a constant eye out for fresh ways to position words on the page. Her voices reflect the idiosyncratic shape of her poems. They are divided in personality, yet they dance to the unique rhythm that the poet controls. Reading Apocryphal is a journey through weighty beauty. The slim volume easily communicates the depth and detail of a novel; and the voices it contains rise and fall with the precision of a novelist's multiple points of view. Yet the mystique and broken form of the poems take them beyond anything a novel could be. Lisa Marie Basile's words bewitch their readers, forcing our brains into the awkwardly shaped mind-sets of her world's isolated voices." – PANK Magazine (editor-in-chief was Roxane Gay). [http://pankmagazine.com/2015/02/19/review-apocryphal-lisa-marie-basile/]
 

"Offering a wellspring of divinity, this book advocates compassion and self-love."—O, The Oprah Magazine

This book is perfect for the beginner who has yet to see themselves reflected in the practices of nature-based faiths. With rituals that combat burnout, foster productivity, and heal internal strife, Lisa Marie Basile's Light Magic For Dark Times shows readers how seemingly esoteric spellcraft actually applies to their everyday lives.—Refinery29

Basile's voice is soothing, and she remains the perfect amount of Scorpio mysterious—she never tires the reader with long personal stories, but instead slips in little details of her interesting life, just as much as context allows. This makes her feel like a warm, curious guide who you'd want to get to know over blue lotus tea, probably served in antique Italian bone china owned by someone's Strega Nona. … What I like most about Light Magic For Dark Times, aside from its beautiful illustrations and narration, is that I feel like I did a good amount of healing work just doing the exercises in the books before I even tried any of the spells.—BUST

Lisa Marie Basile's Light Magic for Dark Times is a treasure. She takes self-care and injects it with magic, with thought, and with the complexities—light and dark—that make us human. Beautifully illustrated and laced with poetics, this is a guidebook for a new spirituality, one that infuses ancient wisdoms and ritual with a modern sensibility. It's the book I want to buy for all my friends.—Erin Khar, Ask Erin advice columnist and managing editor at Ravishly

A poet's foray into nonfiction, Light Magic for Dark Times is revelatory—a richly-brewed infusion of everyday magic exactly when many of us need it most.—Sonya Vatomsky, author of Salt Is for Curing and writer at Haute Macabre

Light Magic for Dark Times is magic itself. Lisa Marie Basile's eloquent and compassionate spellbook could benefit anyone who feels his or her inner power emerging. Simply beautiful.—Vanessa Cuccia, founder of Chakrubs and author of Crystal Healing and Sacred Pleasure
Fair Winds Press, 9781592338535, 176pp.
Publication Date: September 11, 2018
About the Author
Lisa Marie Basile (she/her) is a poet, essayist, editor, and chronic illness awareness advocate living in New York City. She's the founder and creative director of Luna Luna Magazine and its online community, and the creator of Ritual Poetica, a curiosity project dedicated to exploring the intersection of writing, creativity, healing, and sacredness. She regularly creates dialogue and writes about intentionality and ritual, accessibility, creativity, poetry, foster care, mental health, family trauma, healing, and chronic illness. She is the author of The Magical Writing Grimoire, Light Magic for Dark Times, City Witches, and a few poetry collections, including the recent Nympholepsy, which is excerpted in Best American Experimental Writing 2020. Her essays and other work can be found in The New York Times, Narratively, Sabat Magazine, We Are Grimoire, Witch Craft Magazine, Refinery 29, Self, Healthline, Entropy, On Loan From The Cosmos, Chakrubs, Catapult, BUST, Bustle, and more. Her work has been nominated for several Pushcart Prizes (most recently for her work in Narratively). Lisa Marie has led poetry, writing, and ritual workshops—at HausWitch in Salem, Massachusetts; Manhattanville College; and Pace University—and she's led ritual and writing events, like Atlas Obscura's renowned Into The Veil. She is also a chronic illness advocate, keeping columns at several chronic illness patient websites. She earned a master's degree in writing from The New School and studied literature and psychology as an undergraduate at Pace University. You can follow her at @lisamariebasile and @Ritual_Poetica.
 
Kristen J. Sollée is a curator and educator exploring the electric intersections of art, sex, and culture. She has written for mainstream and academic publications including The Huffington Post, VICE, NYLON, Time Out New York, BUST, The Journal of Fashion, Style and Popular Culture, and Current Musicology, and lectured at colleges and conferences across the US and Europe. She is also the founding editrix of Slutist, a sex positive feminist website, and a lecturer at The New School. Sollée's signature college course, "The Legacy of the Witch" follows the witch across history, pop culture, and politics, from the Venus of Willendorf to The Love Witch. Her critically-acclaimed book inspired by the course, Witches, Sluts, Feminists: Conjuring the Sex Positive, was published by Stone Bridge Press in the summer of 2017.