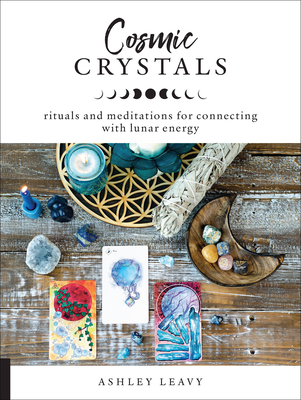 Cosmic Crystals
Rituals and Meditations for Connecting With Lunar Energy
Paperback

* Individual store prices may vary.
Description
Cosmic Crystals shows you how to work with the phases and signs of the moon to energize and amplify the power of your crystals.

Living in sync with the rhythm of the lunar cycle is a powerful way to stay aligned to universal energy. Crystals and moon magic have been used together to this aim for centuries. Crystals are natural amplifiers of energy that can be used to enhance your connection to the moon and its healing energy. 

Learn crystal meditations and rituals for each moon phase, as well as which crystals are most potent during New Moons, Full Moons, and other lunar events. Cosmic Crystals shows you how to combine the power of lunar energy and healing crystals to create sacred space, set intentions, and manifest magic and abundance in your life.

For each moon, find information on how to work with its corresponding crystals and energetic qualities, along with lists of its associated herbs, colors, essential oils, animals, and deities.

Written by leading crystal expert Ashley Leavy and including lavish photography, this beautiful book will have a place on every crystal enthusiast's book shelf.
Praise For Cosmic Crystals: Rituals and Meditations for Connecting With Lunar Energy…
Ashley Leavy has such a pure, authentic passion to help people become more aware and open to the world of crystals. With pages filled with her teachings, crystal information, rituals and more, her book Cosmic Crystals will teach you everything you need to know about working with your crystals in alignment with lunar cycle.—Heather Askinosie, author of Crystal Muse and co-founder of Energy Muse

A comprehensive primer on how to use crystals to connect to the moon's energy, Ashley's book is the perfect companion for anyone looking to add more practical magic to their life.—Emma Loewe, editor at mindbodygreen and author of The Spirit Almanac

Make some room on your soul shelf, this is a must-read for every mystic seeking to add a touch of magic to their day-to-day.—Emma Mildon, author of The Soul Searcher's Handbook

A beautiful manual brimming with practical information on connecting with lunar energy and harnessing it for our empowerment.—Kimberly Snyder, author of Recipes for Your Perfectly Imperfect Life and founder of Solluna

Ashley starts off with clear basic information about crystals, ritual, and the moon. This is all a very good grounding for anyone new to these subjects and a well-timed reminder for anyone with more experience. But it is when Ashley steps into the lunar detail that her feminine energy explodes onto the page! Detail, connections and creative ideas flow from her heart and shows that she's sharing from her soul.—Philip Permutt, author of The Crystal Healer series

Cosmic Crystals is an invaluable tool for any crystal lover wanting to learn more about harnessing the power of the moon. As someone who uses the moon in ritual regularly, I find the sections outlining the best crystals for each moon phase amazingly useful! Ashley has taken great care to cover every aspect of working with the energy of Mother Moon.—Cassie Uhl, author of The Goddess Discovery Book and founder of Zenned Out

Cosmic Crystals is the perfect intersection of crystal healing, astrology, and lore from around the world that will inspire beginner and adept alike to make each day more magical.—Nicholas Pearson, author of Stones of the Goddess

If your heart is calling you to listen to the whispers of the moon, this book will help you hear her wisdom.—Adam Barralet, author of Crystal Connections

A feast for the soul, mind and eyes. A wonderful resource for any crystal healer, witch and moon priestess.—Ethony, author of Your Tarot Court and founder of ethony.com

[Ashley Leavy's] beautiful, sensitive book Cosmic Crystals is an invitation to follow the journey of the moon, that most feminine of astrological elements, through each astrological sign and house to discover the many facets of its healing power…. Whether for personal use or for gifting, Cosmic Crystals is a worthy companion on the quest to understand, deepen, and benefit from the connection with lunar energy.—ForeWord Reviews
Fair Winds Press, 9781592338856, 192pp.
Publication Date: August 20, 2019
About the Author
Ashley Leavy (Madison, WI) is one of the world's top crystal healing experts and educators, and author of Crystals for Energy Healing and Cosmic Crystals. She has helped tens of thousands of people discover the power of crystals for healing and transformation. Ashley's passion for crystal healing has attracted notice from the media, and her work has been featured in hundreds of magazines, newspapers, blogs, TV stations, and radio shows. As the Founder & Educational Director of the Love & Light School of Crystal Therapy, Ashley has created dozens of award-winning, online courses for anyone interested in learning more about crystals, including a comprehensive Crystal Healing Certification Program. With classes that are fun, educational, and life-transforming, the Love & Light School has quickly grown into a thriving international community. To learn more, visit loveandlightschool.com.
or
Not Currently Available for Direct Purchase