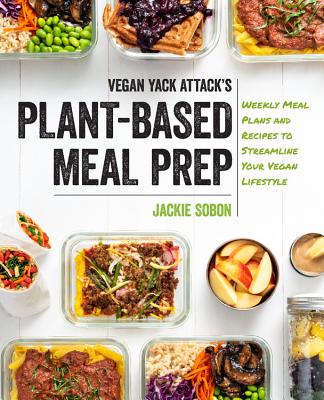 Vegan Yack Attack's Plant-Based Meal Prep (Hardcover)
Weekly Meal Plans and Recipes to Streamline Your Vegan Lifestyle
Fair Winds Press, 9781592339075, 176pp.
Publication Date: December 31, 2019
* Individual store prices may vary.
Description
If you've always loved the idea of meal prepping, but never felt ready to begin, you've come to the right place. The Vegan Meal Prep Cookbook takes the guesswork out of meal planning and sets you up with simple, make-ahead recipes that keep your fridge full and your schedule free.

If you're a vegan and frequently on the go, it can be hard to find plant-based options that you can not onlyeat, but want to eat. In many cases, packing your own goods is both the healthier, and more delicious, option. But it's not always easy to figure out what to pack and how.

With The Vegan Meal Prep Cookbook, author Jackie Sobon does all the "figuring" for you, giving you meal plans you can start on Sunday—or whatever day works for you—and use throughout the week. From bulk grains and beans to big-batch sauces and soups you can use in all sorts of different ways (think Creamy Butternut Squash Soupdrizzled over a baked potato or rice), there'll be no more "What's for dinner?!" panicking. You'll also find ideas for great car breakfasts and work lunches, along with all the tips and tools you'll need to plan ahead and make your life easier.

With more than 100 recipes and 10 weekly plans (plus Jackie's signature stunning photography), meal prep success is in the bag!
About the Author
Jackie Sobon is a food photographer, recipe developer, and author specializing in vegan food. She is the founder of the popular food blog Vegan Yack Attack, which has been showcasing her creative recipes and stunning photography since 2011 and has been placed on many top blog lists. Her work has been featured on websites such as KTLA News, ABC News (Good Morning America), VegNews, Kris Carr, PureWow, Babble, and BuzzFeed. Jackie has photographed cookbooks for the likes of Jason Wrobel, Happy Herbivore, and other plant-based authors. She is the author of Vegan Bowl Attack! and Vegan Yack Attack on the Go!.