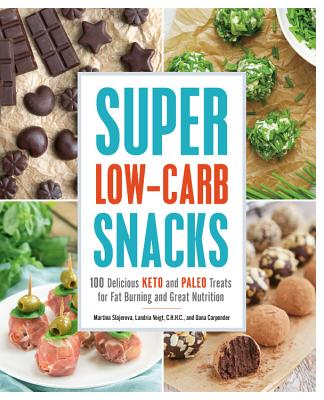 Super Low-Carb Snacks
100 Delicious Keto and Paleo Treats for Fat Burning and Great Nutrition
Paperback

* Individual store prices may vary.
Description
Super Low-Carb Snacks gives you 100 nutritious and delicious options for staying in the fat-burning zone—perfect for your keto, Paleo, or low-glycemic diet, or if you simply want snack options free from refined sugar and allergens such as grains, gluten, and dairy.

Snacks are essential for getting the proper amount of nutrients and keeping us energized during busy days at work, school, and the gym. While most snacks are made of carb-laden, allergy-provoking ingredients, these low-carb snack recipes are filled with healthy, nourishing ingredients that you can feel good about including in your diet. You'll find plenty of superfoods, like coconuts, sweet potatoes, and almonds. Many of the recipes are quick and easy to make, and most take under 15 minutes to prepare!

The sweet and savory low-carb snacks include: Cauliflower Pizza Bites, Zucchini Muffins, Crispy Okra Sticks, Chicken Maple Sausage Meatballs, Cinnamon Donut Holes, Pumpkin Snickerdoodle Fat Bombs, Lemon Cheesecake Fat Bombs, Stilton and Chive Fat Bombs, Key Lime Smoothie, and Creamy Keto Coffee.

With Super Low-Carb Snacks, you'll always be ready with a delicious, wholesome snack to keep you going.
Fair Winds Press, 9781592339112, 192pp.
Publication Date: August 6, 2019
About the Author
Martina Slajerova is a health and food blogger living in the United Kingdom. She is the best-selling author of The KetoDiet Cookbook, Sweet and Savory Fat Bombs, Beginner's KetoDiet Cookbook, Quick Keto Meals in 30 Minutes or Less, Keto Slow Cooker & One-Pot Meals, The Keto All Day Cookbook, Super Low-Carb Snacks, and Keto Simple. A firm believer in low-carb living, Martina discovered the ketogenic diet after being diagnosed with Hashimoto's Disease in 2011. Frustrated with the lack of practical resources, Martina created the KetoDiet app and blog to help others live the ketogenic lifestyle successfully. A science geek at heart, Martina incorporates the latest research as well as firsthand experience into her advice. When creating recipes, she focuses not just on carb count, but on creating delicious, healthy recipes that are free of processed ingredients, unhealthy vegetable oils, and artificial sweeteners. Today her blog posts reach hundreds of thousands of people and her work has been featured in Cosmopolitan, Glamour, Huffpost Healthy Living, BuzzFeed, as well as dozens of other low-carb media and outlets.
Dana Carpender (Bloomington, Indiana) is a pioneer of the low-carb movement and best-selling author of over 14 cookbooks, including The New 500 Low-Carb Recipes,1001 Low-Carb Recipes, 500 Paleo Recipes, 15-Minute Low-Carb Recipes, The Low-Carb Diabetes Solution Cookbook, 200 Low-Carb, High-Fat Recipes, The Low-Carb Diabetes Solution, The Insulin Resistance Solution, 500 Ketogenic Recipes, and many more. To date, her books have sold over a million copies worldwide. She writes about low-carb cooking and nutrition on her Facebook page, Dana Carpender's Hold the Toast Press. 
Landria Voigt (Atlanta, GA)  is a Holistic Nutritionist and graduate of the Institute of Integrative Nutrition. She is also the creator of the popular Paleo blog StirItUp which focuses on family-friendly Paleo recipes and nutritional advice. Landria came to be deeply passionate about nutrition after her own struggles with autoimmune disease. Her special area of interest is the nutritional needs of children. Landria works with the nationally renowned Dr. Tasneem Bhatia (Dr. Taz) at CentreSpringMD (formerly known as Atlanta Center for Holistic and Integrative Medicine) where she works with patients daily both one-on-one and via seminars and classes to teach them the importance of whole-food nutrition.
or
Not Currently Available for Direct Purchase