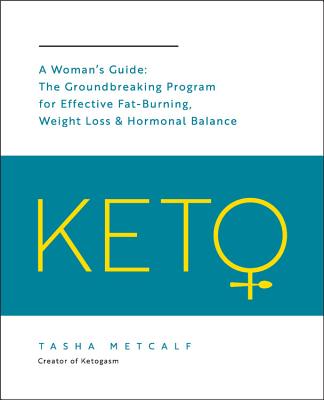 Keto (Paperback)
A Woman's Guide: The Groundbreaking Program for Effective Fat-Burning, Weight Loss & Hormonal Balance
Fair Winds Press, 9781592339174, 192pp.
Publication Date: June 11, 2019
* Individual store prices may vary.
Description
One size does not fit all when it comes to the ketogenic diet. Keto: A Woman's Guide offers a balanced approach to using the keto diet to optimize hormonal balance and body composition, customizable to your specific dieting goals.

Women need to do keto better and smarter to get the health and fat-burning benefits they are seeking. Men and women have different energy requirements, different levels of hormones, and metabolize nutrients differently. With the soaring popularity of low-carb diets in recent years has come a lot of confusing and misleading information—and very few resources that consider the unique physiology of women on a ketogenic diet. Keto: A Woman's Guideaddresses the misconceptions and discrepancies to give you a clear path to keto success.

Ketogasm website and blog creator, Tasha Metcalf, outlines the fundamental differences between male and female keto dieters, how to correctly determine your calorie and nutrient needs, and how to adapt the appropriate approach for your particular keto dieting strategy, whether for fat-burning and weight loss, reversing insulin resistance and PCOS, athletic performance, thyroid health, and/or balancing your hormonal cycle. She also explains the ketogenic diet phases, their particular lengths and objectives, and actionable steps for getting the most out of each phase of the diet.

With Keto: A Woman's Guide as your trusted source, meet your individual keto goals with a diet plan custom fit for your body.
About the Author
Tasha Metcalf (Tacoma, WA) is the creator of the wildly popular website Ketogasm, a resource for women learning how to implement a ketogenic diet. Her Hello Keto course has had 58,000 students since its launch in 2017. With a background in biology, nutrition, and functional medicine, Tasha used the ketogenic diet to reverse PCOS and infertility and lose weight. She has shared her experience with thousands of women looking to utilize the keto diet to improve their health and well-being.
Praise For Keto: A Woman's Guide: The Groundbreaking Program for Effective Fat-Burning, Weight Loss & Hormonal Balance…
"Keto: A Woman's Guide, is a must-read for all women wanting to win the weight loss battle with a keto lifestyle! Regular hormonal changes make the female approach to weight loss different than a standard keto plan geared towards men. This guide helps women understand why their male counterparts seem to struggle less when it comes to losing weight. Tasha does an excellent job explaining how things like hunger and metabolic rate can fluctuate during the female hormonal cycle."
 
- Lisa MarcAurele, Founder of Low Carb Yum
"A keto book for women, by a woman; this is just what the keto community needed. We've known for decades that women's bodies have different metabolic pathways for various drugs and medicines, why would it be any different for the food we eat? Keto: A Woman's Guide helps identify the benefits and potential pitfalls of the female keto lifestyle and set women up for greater success."
 
- Carolyn Ketchum, best-selling author of The Everyday Ketogenic Kitchen
"Keto: A Women's Guide is going to be my new resource for women wanting to adopt the ketogenic diet.  As a low-carb athlete, I appreciate that exercise and athletic training is covered in this invaluable guide, as this topic alone can be quite tricky to navigate as you venture from the world of high carb sports nutrition into the wonderful realm of keto."
- Aaron Day, Creator of FatForWeight Loss
"Whether we realize it or not, keto is different for men and women. With her nutrition expertise and her extensive experience with the keto diet, I can't think of a better person than Tasha to write this much-needed book. I highly recommend Keto: A Woman's Guide to any woman serious about understanding her body and following keto the right way."
 
- Maya Krampf Founder, Wholesome Yum
"Tasha's book should be on every keto woman's bookshelf. Men and women are so different when it comes to losing weight, yet most advice on how to follow a healthy diet is not designed for their respective needs. From understanding how female hormones impact weight loss and ketosis to the smartest food and exercise strategies, Tasha explains everything in such simple terms you'll be able to start your low-carb journey right away."
 
- Martina Slajerova, bestselling author of The Beginnerâ??s KetoDiet Cookbook
"Tasha provides a voice of reason in a world of keto confusion. She expertly counters myths around the ketogenic diet and set her readers up for long-term success."
 
- Annissa Slusher, Creator of Simply So Healthy
"I love this book! Tasha has outdone herself with this easy-to-understand, level-headed and straightforward guide to doing keto as a woman. A much-needed resource, tailored specifically to women's physiology and healthy endocrine function, it is full of insight into how to use keto to optimize our metabolic rate training, build strength, and enhance body composition. I would highly recommend this book to any women seeking to master keto and learn valuable tools and insights along the way!" 
 
- Vanessa Spina, author of Keto Essentials