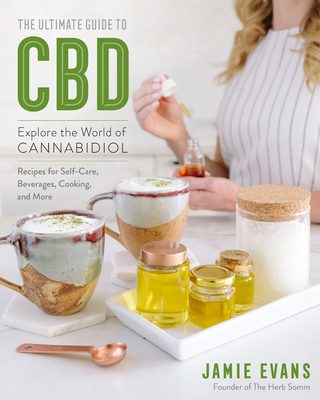 The Ultimate Guide to CBD
Explore the World of Cannabidiol - Recipes for Self-Care, Beverages, Cooking, and More (The Ultimate Guide to... #8)
Paperback

* Individual store prices may vary.
Description
Discover new ways to live a healthy life by incorporating cannabidiol (CBD) into your daily routines.
Whether you are seeking information on making your own
CBD self-care products
,
how to cook with CBD
, or how to
administer CBD to your pet
,
The Ultimate Guide to CBD
makes for the perfect introduction.
You'll start by
learning the basics
—including the most current science in the field of CBD research. Since there are many ways to use cannabidiol, you'll also learn the
differences between each application
, with a detailed look at CBD oils, flower, ready-made beverages, tinctures, isolates, concentrates, capsules, salves, balms, face oil, vaping, and more. A discussion on homemade versus professional-made products is included, along with tips on
how to pick a trustworthy brand
.
In the chapters that follow, you'll be able to explore CBD in a variety of ways:
Wellness: Self-care is the ultimate practice that can benefit your life, your relationships, and your overall happiness. This chapter will encourage the reader to evaluate their own personal wellness and hygiene routines, providing information on how to best use CBD-rich skincare, bath, and body products. An overview of other complimentary soothing herbs is provided, as well a "how-to" guide for crafting CBD face masks, salves, and massage oil.
Beverages and Food: Find your inner mixologist with CBD beverages, from CBD mocktails and cocktails to CBD coffee, matcha, and more. Learn how to make your own CBD oil at home and go gourmet with CBD honey, olive oil, butter and other infusions to craft delicious CBD cuisine. 
Fitness: With opioid addiction on the rise, athletes are looking for new ways to manage pain, reduce anxiety, alleviate stress, and enhance performance. This section focuses on CBD and fitness by exploring the different ways that CBD may benefit the body during physical activities, such as yoga, running, skiing/snowboarding, and contact sports. An overview of CBD supplements and relief balms, as well as a "how-to" guide to making a post-workout balm to relieve sore muscles.
Pets and Other Uses: It turns out that our four-legged friends may also benefit from CBD. Learn how to safely share CBD with dogs and cats for anxiety reduction and pain management. 
With all this and more, including 
expert spotlights featuring some of the top names in CBD-related businesses
, this is the go-to resource you've been looking for.
The Ultimate Guide to…
series offers comprehensive beginner's guides to discovering a range of mind, body, spirit topics, including tarot, divination, crystal grids, numerology, witchcraft, chakras, aromatherapy, and more. Filled with beautiful illustrations and designed to give easy access to the information you're looking for, each of these references provides simple-to-follow expert guidance as you learn and master your practice.
Praise For The Ultimate Guide to CBD: Explore the World of Cannabidiol - Recipes for Self-Care, Beverages, Cooking, and More (The Ultimate Guide to... #8)…
"Amid all the misinformation in the evolving CBD wellness space, it's refreshing to read an in-depth guide by a true expert. This book is the perfect introduction."
—
Katie Shapiro, cannabis journalist, and Senior Contributor at Forbes
"If there's anyone qualified to write the comprehensive guide to CBD, it's Jamie Evans. From the geeky science behind what the heck it is to why it should be in your pantry and how to best use and enjoy it, she covers it all in a manner that's both informative and understandable."
—
Lauren Buzzeo, Managing Editor at Wine Enthusiast
"This book is such a valuable resource. Jamie Evans has a talent for sharing her passion in a way that is fun, approachable and informed…she has become my go-to source for everything about the new, normalized cannabis culture."
—
Maghan McDowell, Innovation Editor at Vogue Business
"This is a remarkable introduction to the world of CBD and an insightful guide to the new wellness revolution sweeping the globe."
—
Cynthia Salarizadeh, Founder of the House of Saka and Co-Founder of the Green Market Report
"A pioneer in cannabis hospitality, Evans has distilled her valuable lessons into a fantastic primer on enjoying CBD in drinks, food, and body care, including advice from experts in the field."
 —
Elise McDonough, author of The Official High Times Cannabis Cookbook
"In a time where there is mass confusion around CBD, The Ultimate Guide to CBD will captivate your attention while setting the facts straight."
—
Christina de Giovanni, CEO at Emerald Group
Fair Winds Press, 9781592339266, 224pp.
Publication Date: April 21, 2020
About the Author
Jamie Evans is the founder of The Herb Somm, a culinary-meets-cannabis blog and lifestyle brand that's focused on the gourmet side of the cannabis industry. She is an author, entrepreneur, and writer specializing in cannabis, CBD, food, recipes, wine, and the canna-culinary world.
As a well-known CBD and cannabis personality, Jamie is best known for her literary work and signature canna-culinary events. She's also a contributor to POPSUGAR, MARY Magazine, and The Clever Root magazine, specializing in lifestyle features for the modern consumer. Jamie is the co-editor of GoldLeaf's acclaimed cannabis Cooking Journal and the author of the CBD lifestyle book, The Ultimate Guide to CBD: Explore the World of Cannabidiol (Fair Winds Press).
As an industry leader, Jamie was named as one of Wine Enthusiast Magazine's Top 40 Under 40 Tastemakers in 2018 and as a 2018 Innovatorby SevenFifty Daily. She was also recognized as one of Green Market Report's "Most Important Women in Weed" in 2020.
Alongside her work in the cannabis space, Jamie is a Certified Specialist of Wine with over a decade of wine industry experience. Having represented a wide array of organizations and wineries including Jackson Family Wines, Folio Fine Wine Partners, Napa Valley Grapegrowers, and more, she is well known for producing high-end events and developing top-notch public relations, marketing, and hospitality programs. Jamie has been featured in dozens of different articles and TV segments including
Food & Win
e,
Entrepreneur
,
Forbes
,
Cheddar TV
,
Wine Enthusiast
,
Robb Report
,
San Francisco Chronicle
,
Los Angeles Times
,
ABC
, and
High Times
, among many others.
or
Not Currently Available for Direct Purchase